Customer support at your fingertips...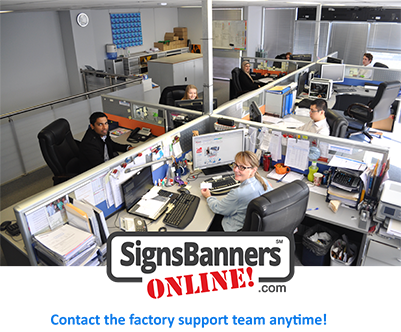 We support customers in many ways led by generous factory to you discounts, talented Let Us Design experts and advice from an experienced factory support team. With lots of people here to help you get your answers fast... please start the conversation anytime.
Ask our experts for free advice now.
America 1-800 983 0692
---
All levels of clientele use our services including American ad agencies, US sign firms, planners and county wide event management firms.
They rely upon the flexibility of CUSTOM ORDERING and CUSTOM SIZING for their local state needs. You can too!
If you have any questions we encourage to you contact our experienced team.
How do I Setup?
Setup files - your choice.
---
How do I pay?
Payments are held in a neutral fund until you release them. You can order now and finalize payment later.
---
Discounts?
Sure. SBO is a factory direct service supported by discounts, material purchases, savings and more. For all current promotions and discounts pleae to here. Banner Sign Discounts.
---
How To's
How to create artwork | How to order | How to upload | How to Track | How others are using S B O
---
Starting Points

SIGNS BANNERS ONLINE SUPPLY ALL STATES, COUNTIES AND CITIES USA and Canada
---
Prices & Discounts
Use the wholesale Order & Upload calculator for Prices and this page for all latest October discounts.
---
FAQ's
Top Frequently Asked Questions and Troubleshooting help.
---
Shipping Times and Production
Indicated on the Order & Upload page is a... your order will be printed and dispatched within [ 48 ] hours field. Read more....
---
Tools
Online tools that assist your setup and creative success.
---
Professional Services
For clients who want an experienced professional to help manage their orders.
---
After I order what's next?
You can manage all aspects of your order. Progress Overview.
---