Data and Application Guides
IMPORTANT
This is general information only and not implied advice. E&EO. You should conduct your own suitability tests for your own applications. Fire ratings may be different per batch, for your application or jurisdiction. Check with your local authorities.
Also See Free Sample Book | Also see: Fabric Selection Guide
† Printed advertising is NOT a safety fall product.
Material Rating: Fire Class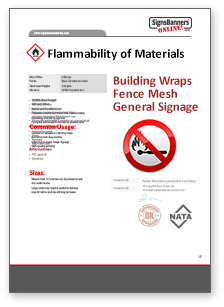 Applicable *Materials (*Maxi-Mesh, *Shade Cloth Printable, *Scaff Mesh, *Vplus, *SiteMaster, *Warrior HD) are thermoplastic (antimony trioxide) Fire Retardant Standard PVC coated Polyester. All our printed mesh, pvc and non polyfabric materials include Flame Retardant. Din-4012-B1 USA NFPA 701 Fire Ratings and Australia AS/NZS 1530.2 1530.3~1999 as tested for End Use Building Wraps, Fence Mesh, General Signage (non illuminated).
These test results relate only to the behaviour of the test specimens of the material under the particular conditions of the test, and they are not intended to be the sole criterion for assessing the potential fire hazard of the material in use nor lifespan flammabilty of product.
SignsBannersOnline.com do not offer Comprehensive Test Results free to the general public.
See each product techsheet below for MSDS.
Regulatory Indices
Ignitablity Index
12
Range 0-20
Spread of Flame Index
0
Range 0-10
Heat Evolved Index
0
Range 0-10
Smoke Developed Index
6
Range 0-10

End of flammability statement.
"They are the big banner supplier you need" Conway SC. "Our firm uses them for all our signs now".