"I am
saving almost half

every time I use them".

The management is easy, the upload is easy, the prices are fantastic. I suggest all companies seriously look at switching to Signs Banners Online here.
Why switch to Signs Banners Online?
Signs Banners Online is a 'to you' discounted printing sewing service that you upload your 'photoshop banner print ready' files and they are processed immediately through automated factory systems.
It allows you as a small to medium buyer to gain the lowest prices and highest quality by us combining all orders and offering the 'largest factory to you discounts'. There is no delay.
"It's easier, faster.. better"
You receive constant updates showing you the position of your order as it begins material load and printing, cutting and sewing, inspection and fitting appliances such as grommets.
"The templating system is incredible" If you're capable of laying out creative's... this is for you.
Amazing Quality
The system is for those who want a quality product manufactured on quality materials with no-return complaints. Now over 64 process checks ensure you receive quality.
Fast
Paid orders are automatically inserted and the printing, cutting, sewing and fitting stages begin, being able to self-manage their orders and rely upon a successful trade relationship between a factory and themselves, trade customers are repeating orders easily.
You can save -20% and more!
of what you previously paid elsewhere
You do not need a login to order. It is a simple wholesale pay and receive process.
All via one easy to use website, designers and buyers can manage all aspects of their large banner printing without waiting.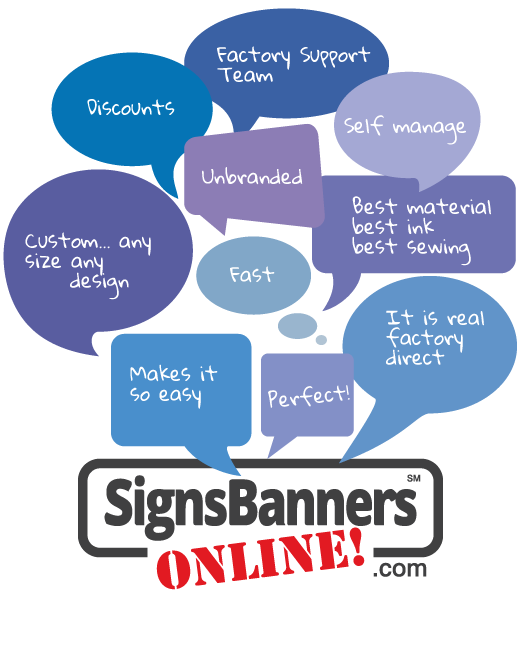 October 2023 Factory Sale also includes
Free

Shipping

IMPORTANT Your details are only used for shipping labels and details are not stored. The images displayed on the website are generic 'Let Us Design' department images to show you capability and production techniques. Trade and Wholesale images are never displayed.

Excluding fittings and shipping labels, your orders arrive unbranded and confidential.

Free ship out to over 150 countries!