Maxi-Mesh™ PVC Outdoor Shadecloth
All purpose SIGNAGE mesh: Advertising, Fence, Printed Dust Control, NO FADE ink.
General purpose with tiny holes, it is favored by clients because it offers the best print outcomes with more 'ink per square-ft' than any other mesh. It looks beautiful and the colors are amazing.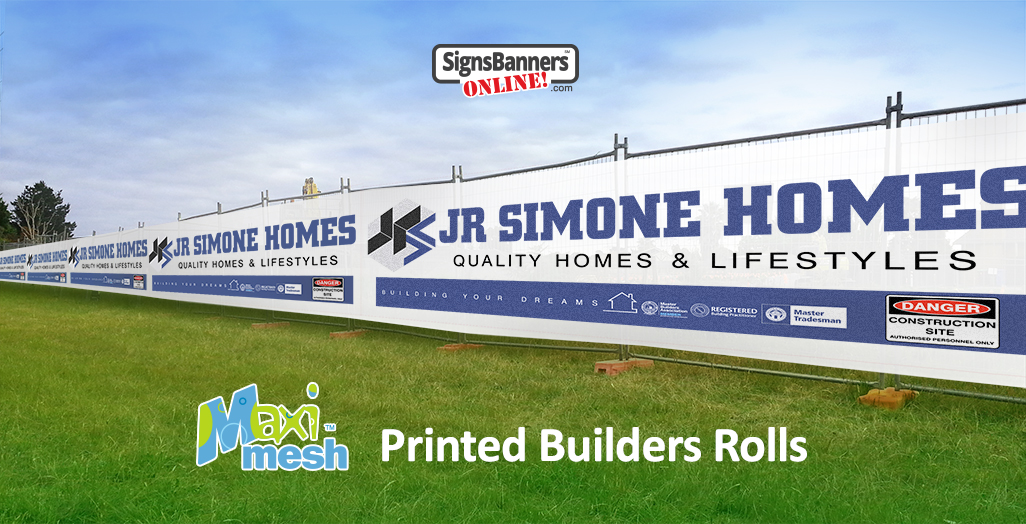 Printed PVC Shade Cloth Mesh for outdoor applications

Category
Description
Signage
Maxi-Mesh is suited for a wide range of outdoor signage applications and supplies.
General Purpose

Many designers use Maxi-Mesh for:

Lightweight super tough logo banners
Printed unique displays
Custom outdoor banners
Long span banners with grommet eyelets

Builders

Maxi-Mesh offers building companies the best printed dust control mesh available. 2.1x better than printed shade cloth.

Note: Particularly noted for printed advertising DUST CONTROL seal offering breathability.

Event
Popular by those event managers who wish to re-use/store their banners for next time. Folds down excellently and can be washed.
Image here
Use Maxi-Mesh for:
Building sites (fences, hoardings, dust containment
Long span advertising banner sign
General purpose 'special' signage
Using Direct to Vinyl Printing (gaseous ink systems) for printing printing the pvc shade cloth banner is ideal for clients who want brighter colors, deep ink setting and smooth vignette graphics on their mesh media.
Frequently Asked Questions
The three(3) most common questions are:
#1 Why is it better than cheap pp shadecloth? Stronger color depth and print results, stronger outdoor ink life, higher quality graphics.
#1 Outdoor applications. Lightweight super strong and breathable.
#2 Life: Estimated 24 mth Full Sun exposure
#3 Thickness = 11 oz 300gsm NON TEAR Dust control properties
NOTE: Maxi-Mesh is a 'cover material only'. It is not a safety fall product.
Material Data Sheet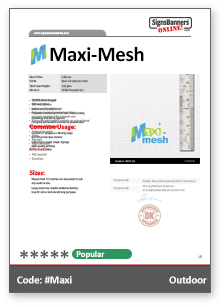 ---
Comparison Maxi-Mesh offers a tighter finish and provides 2.1x times more ink coveage than cheap shade cloth printing.

It is preferred by retailers because:
'More visible print'.
More colors.
Tiny breathable holes for superb dust control.
Super Strong burst strength
Looks amazing.
Cheap. As seen throughout Massachusetts by building companies and developers everywhere!
No minimum size, No minimum quantity required.
83% Opaque
Washable for storage and re-use.
Special Feature: Maxi-Mesh has a special angled 'anti-tear' joiner for bonus strength.
Actual Material (image dark for screen view only) of the surface/pattern. Color Whiteness = White 92%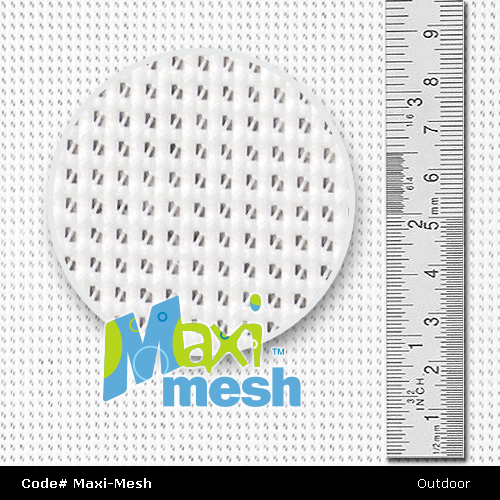 Sizes
Join for tall span sizes. Currently available 5' 1500mm. Join for larger: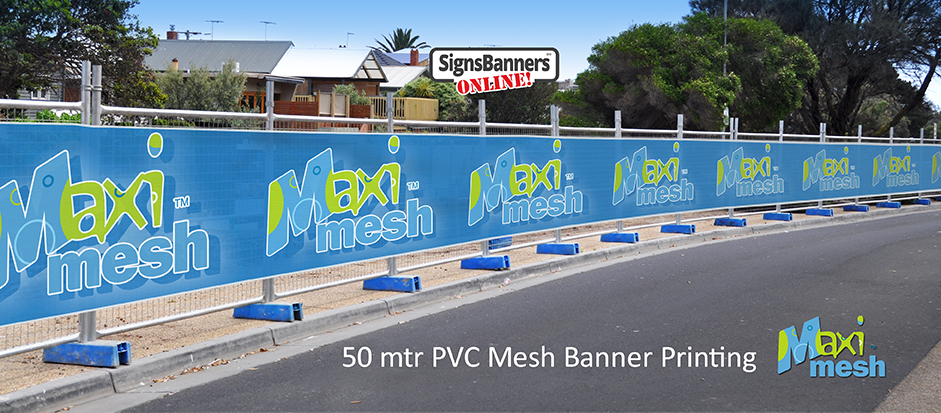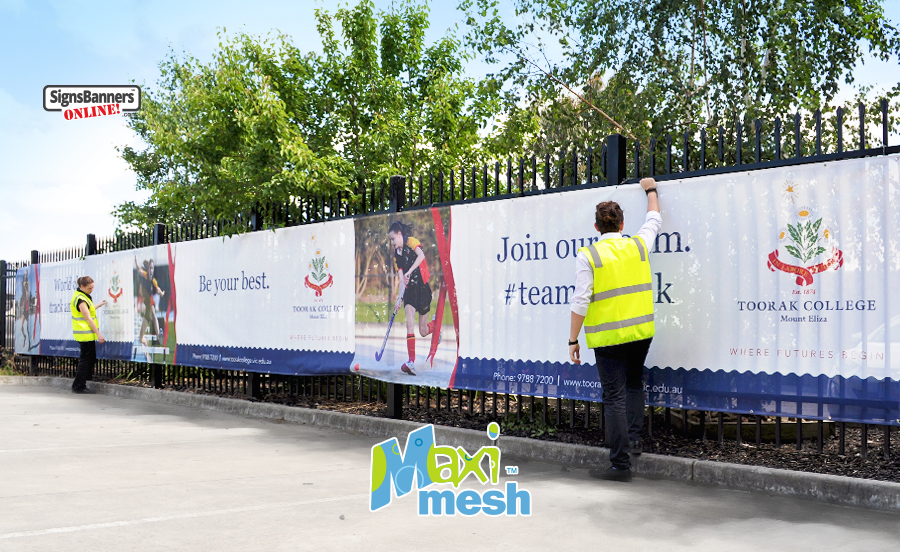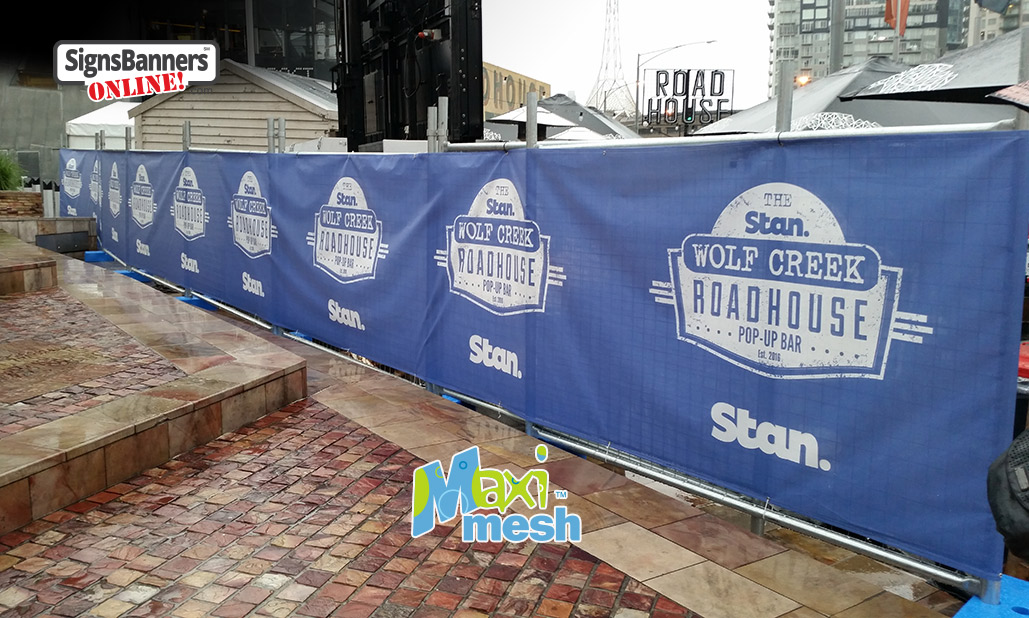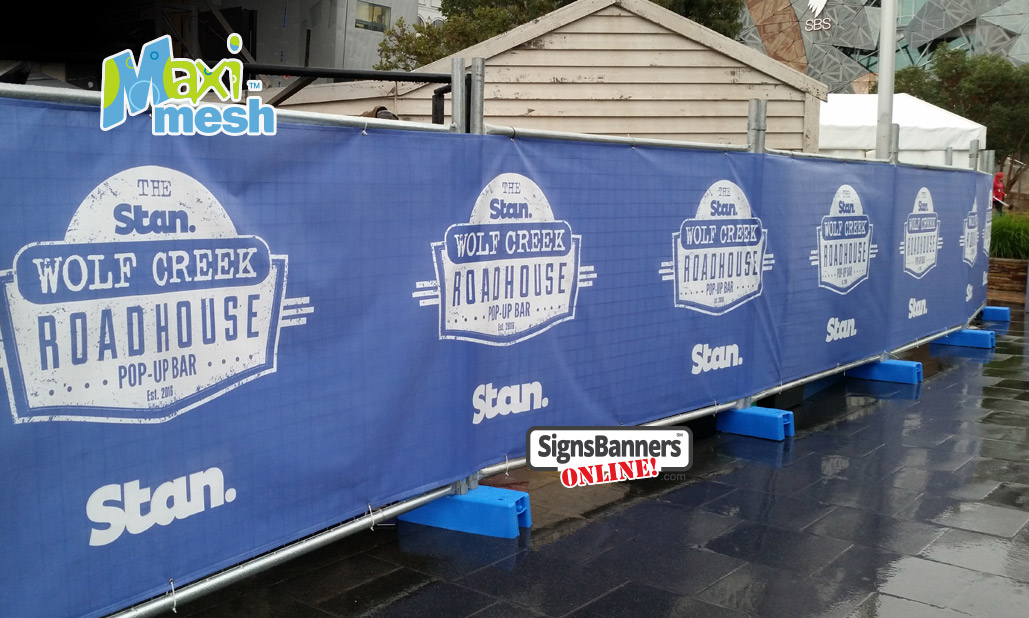 "Its the perfect size for temporary fence hire".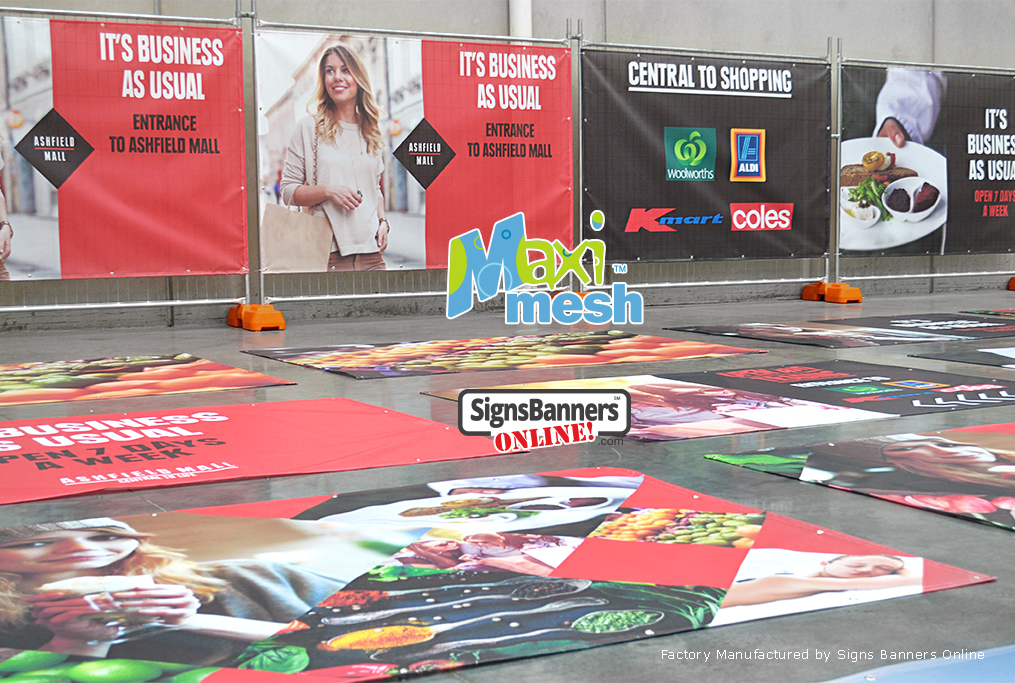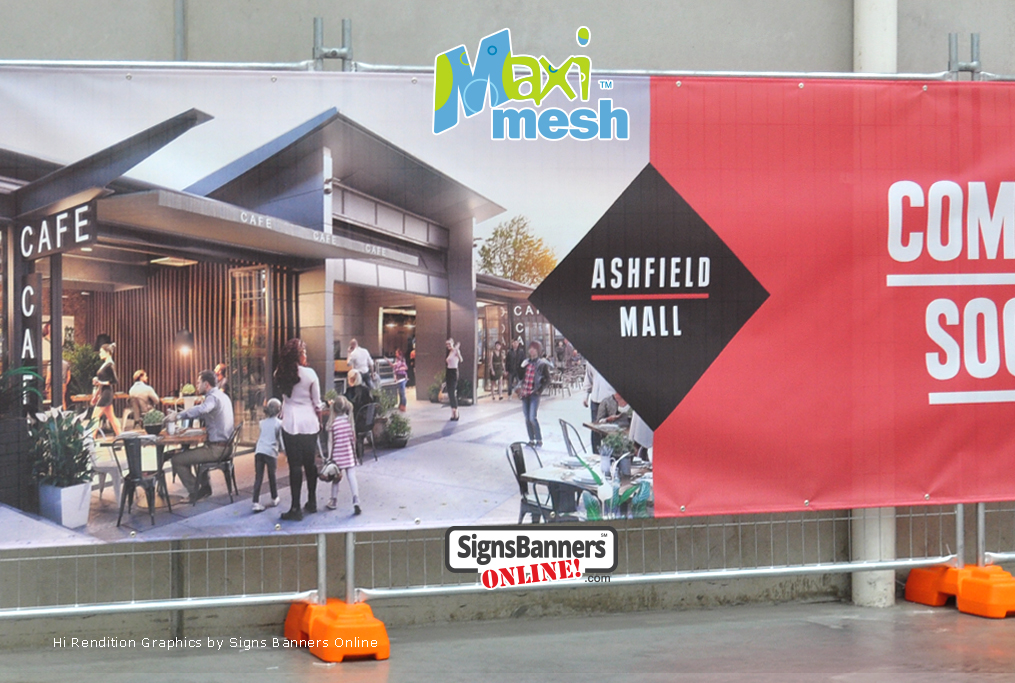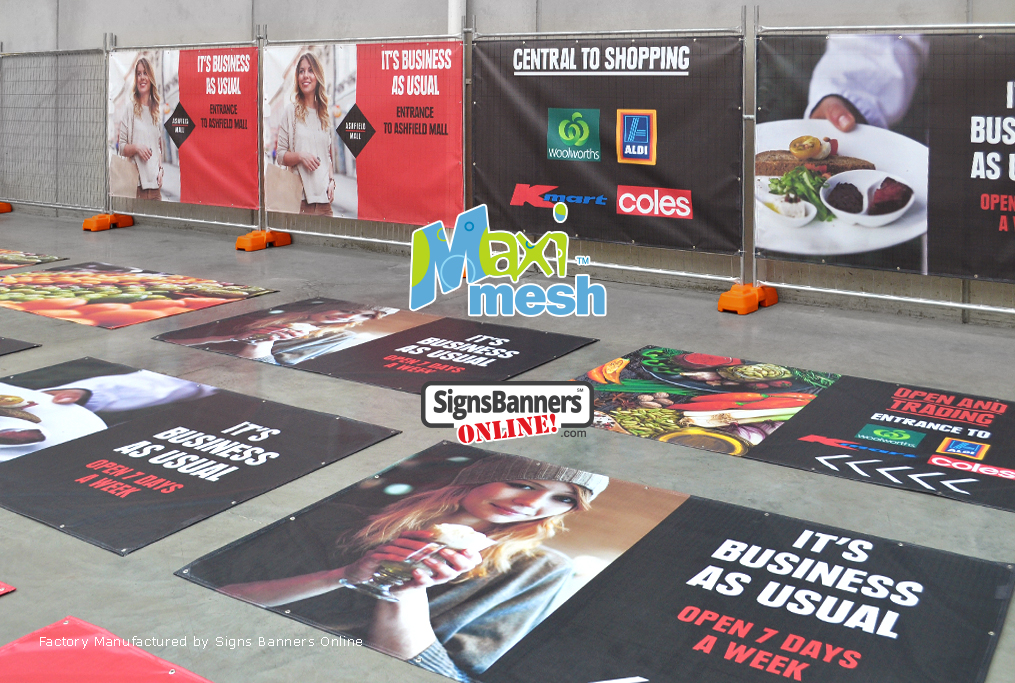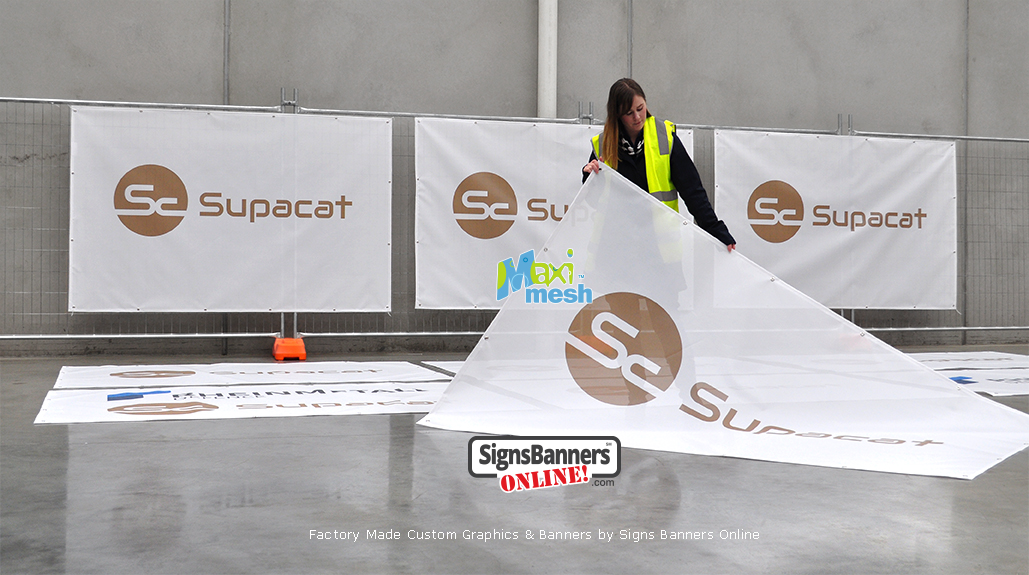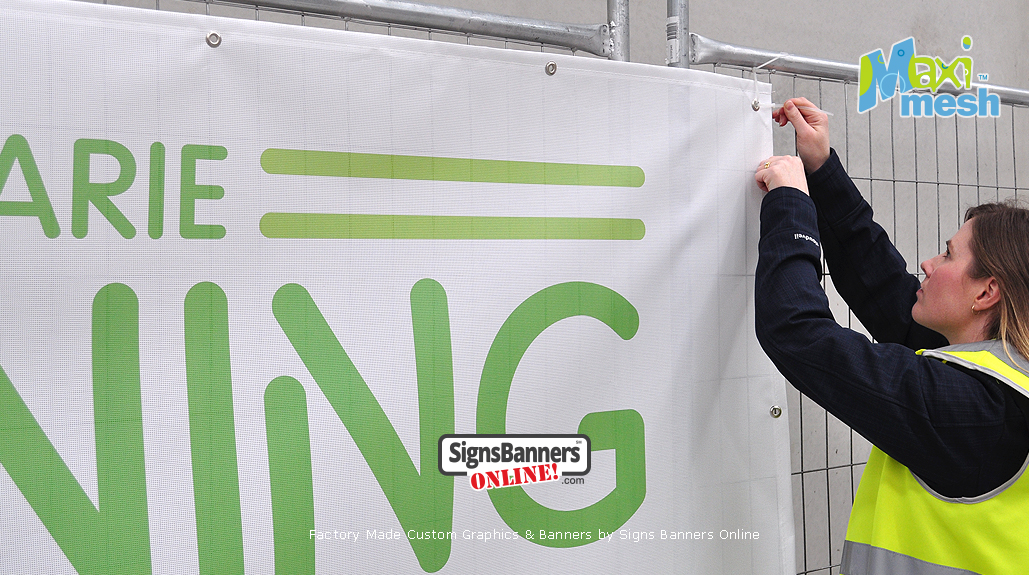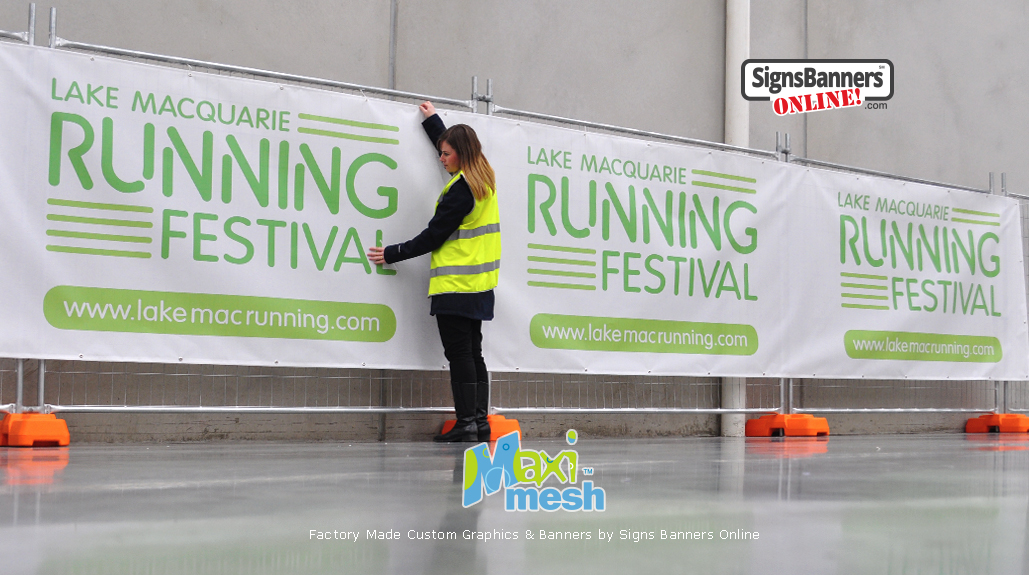 We are the factory
Factory made, we proudly show you the mesh banner printing factory because we are the factory. Direct to you, trade, wholesale, reseller we can supply and make your custom printed signage fast.