Automatic No Waiting System...
When you upload a correct file, Signs Banners Online automatically creates a proofing image for you to inspect.
Free.
Before you pay Zoom in and around to confirm each line item of your order.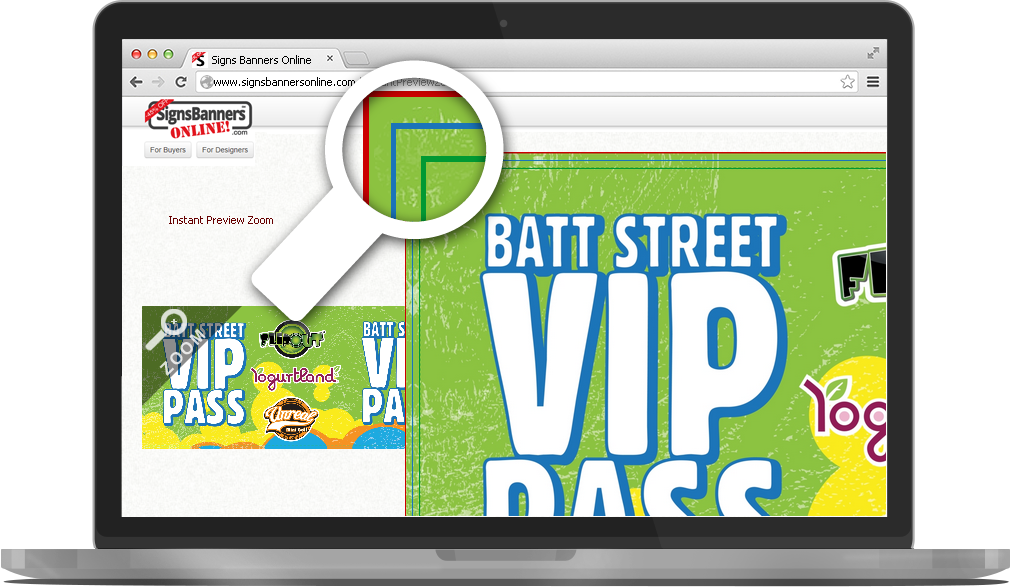 1. Upload 2. Inspect, approve and pay 3. Printing processes begins.
Use the Instant Preview Zoom to check all details then approve.
Tip: For designers.... An instant preview appears showing you the details of your order and any sewing positions for your pole pockets, hem etc. The Instant Preview is your online proof that you can email or forward to your customer or manager or approve and pay.
Signs Banners Online automatically places the red, blue and green lines on the proofing image only. They do not appear on your print.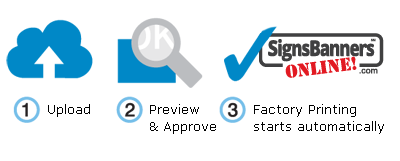 Please read carefully
A successful file
with

bleed is needed.

Correct design specifications must be used for automatic printing. If you are unsure how to create a file suited for automatic wholesale printing, please watch our handy videos or employ a professional graphic designer to assist you.
Order & Upload is 'upload to print'.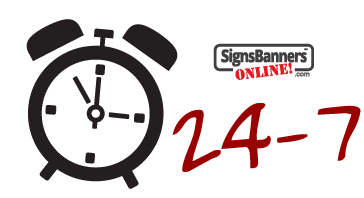 Do it yourself... Upload will generate an instant preview which is your proofing & confirmation. Approve and the printing and factory processes begin automatically.
Use Order & Upload if your files are professionally created for instant printing. Otherwise use Let Us Design and we will do it for you.
Summary
S B O's automatic system can generate an Instant Preview Zoom if your file size, specifications and parameters are correct for instant printing outcomes (as recommended by the Easy Template Maker)
Send the URL to your manager or design team

You can Copy the page URL and forward it to your colleague... OR... Save the Instant Preview on you c:/drive etc. and they can see it too!
"You can use the instant preview zoom for a range of products including banners, signage, displays, grand format printing aero fabric and outdoor printed advertising banners."
Approve before payment - Instant Preview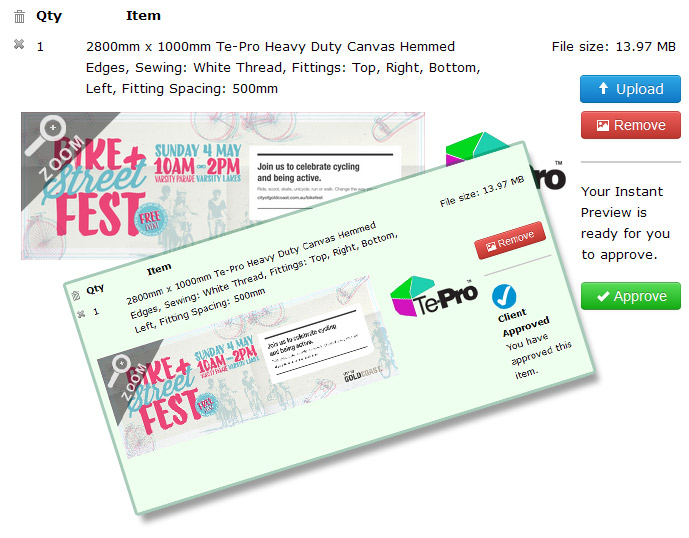 Click on the image to Zoom or download/save large Instant Preview
See each file on screen or download
Instant Preview allows you to view each line item Free, check fold lines (MOS), finished order size, position of graphics, suggested sewing safety area and more.
Visually Approve each line item before payment is due
Ensure your orders are correct easily and quickly using the Instant Preview
Compare the artwork to your order details ensuring you upload the correct artwork for each description
Multi Action Uploading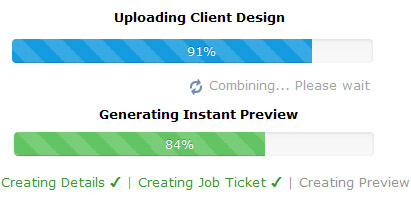 The TWIN uploader performs and creates
As you upload, the TWIN uploader inspects, qualifies, creates job tickets and gives you previews
Multi Action Uploading enjoy the speed and ease. The TWIN uploader performs many functions simultaneously.
Instant Preview Proofing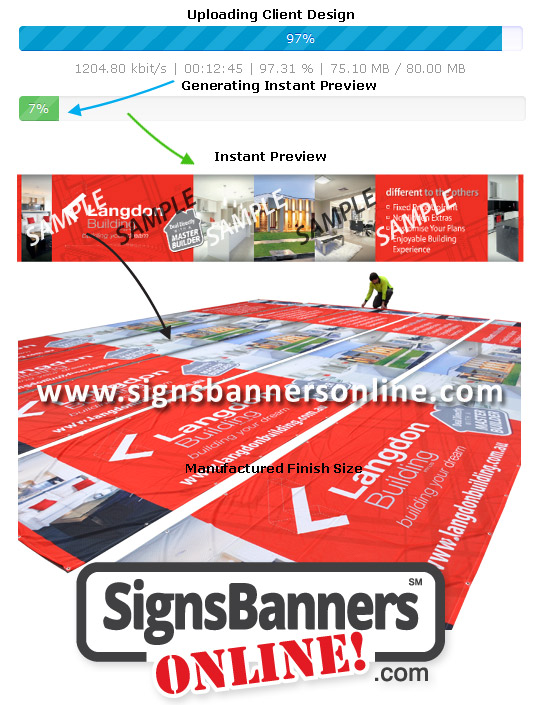 The TWIN uploader gives you a preview so you can ZOOM in.
Preview and proof your designs before proceeding! This handy tool allows you to re-check your details and threshold. It's an online proof.
The Instant Preview also shows you the... approximate 'safety sewing area', finished order size position and material needed for cutting. To learn more about Material Over Size, please watch the video here How to create artwork
Thanks for our banner it arrived today. The blue is fine and the print quality is great. Thanks for turning this around so quickly! God bless, Virginia Marketing Communications Executive. VA USA