Guaranteed Factory to You...
Over 150 Hire & Rental Companies use SBO's shade cloth printing services nationally!...

you can too!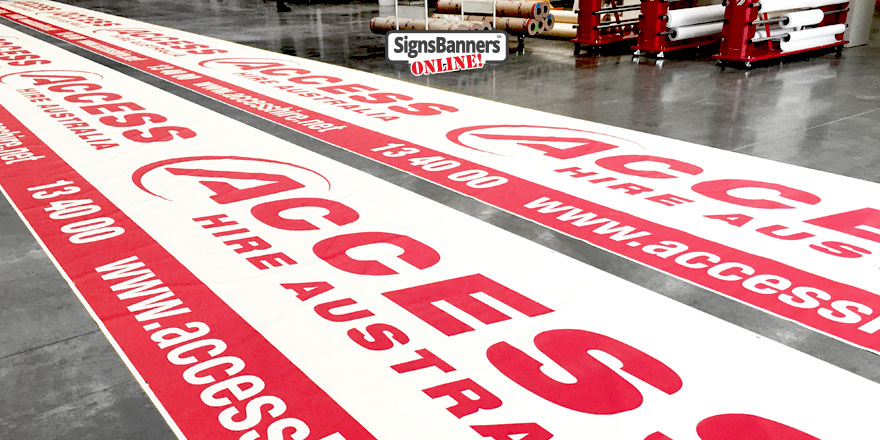 Hire Companies know they are buying shade cloth printing from the source
Offer all Fence Hire and Trade Buyers - Blind shipping, & Zero Approach Policies, faster turnaround times and lower prices.
As more and more temp fence and shade cloth printing hire companies approach direct mesh sales as a product line, Signs Banners Online are producing graphics and supplying wholesale products for them. Fence mesh nationally, it offers the temp fence construction and installing company huge benefits and customer satisfaction. AIM HIA 2023
As a leading temp fence sales business, it gives a market strength to our agents. TFSH
Being able to offer printed mesh direct to our customers is a super bonus. Signs Banners Online are excellent. Central Hire
See hundreds of examples and ideas manufactured by SBO's graphic team.

Prices

Huge Discounts SBO's large volume of trade orders keeps prices lower. SBO are the major factory in producing graphic printed shade cloth and temp fence banner signage.

IMPORTANT!
Printed, Hemmed, Eyeleted and Ready to Use Prices start at $4.33 or less
"They offer incredible value... Shade and Mesh Supplies" Let's start talking

Special Bonus: FREE ZIP TIES

To assist our trade customers we now offer 1pkt of 100 zip ties per roll. (included free)

Manage
At every stage, watch your order as it moves around the factory and to your door.
Services
In-house Artwork, Sewing, Printing, Welding, Scheduling, Packaging. We Are A Full Service Large Format Printer Service with worldwide printing customers.
Scheduling
Fence Hire Company, Resellers and Temp Fence Sales are given HIGHEST PRIORITY. Signs Banners Online was created for wholesale, so we place the highest priority servicing our trade buyers. You'll have priority access to equipment, finishing times and express delivery.
Express Delivery
Site Wrap, shade cloth and hire company are given EXPRESS SHIPPING at no extra cost. Overriding the ground shipping arrangements, we automatically swap to express shipping for all sign firms and graphic designers.
Commitment to Speed > All orders are processed as priority. You'll enjoy super fast production, setup and elements matched to completing your order fast.
Experience

Created by a team of graphic designers specializing in making huge banner signs for customers. An idea developed to build an online website where graphic designers and wholesalers from around the world could effectively combine orders to lower prices. They upload directly into a factory printing machine and watch as their orders move around the factory and to their door.




Direct factory production offers designers a huge -20% price discount, and as time goes on and more people use S B O, todays discount is expected to grow as bulk savings are applied.

And... from the comfort of your desk, you can now ship out to over 150 Countries.




We bring you 20 years of wholesale supply in this specialized field, and have experienced people you can talk to about your high volume custom MASTER ROLL trade printing. We take pride in our worldwide printing system and guarantee your satisfaction. When you want your large format printing done perfectly- and on time every time- talk to us- the trade printing supply experts.

Our large format printing shop includes a complete prepress shop, banner shop, flag shop, billboard shop with modern large and grand format printers of up to 196" width, and a complete finishing shop for roll to roll and trade show graphic finishes. We have the skill, the systems, and the daily capacity to turn your job around quickly and affordably.

Our vinyl banner printing shop can produce outdoor vinyl banners up to 16 ft wide and 150 ft long, seamless and with amazing color resolution, and our UV curable, Dye Sub and DTG machines print directly on vinyl, polyfabrics, mesh and trade show graphic fabrics. We also stock super strong heavy duty billboard medias and retail store display graphics!

We are large enough to have the right people and equipment to do your job well and offer personal management and attention each project. As an experienced large format specialist, it offers customers searching for trade printing United States a reliable ordering system, online 24-7.

Images Photos
We never display your work on any promotional items, website galleries or other. Your orders remain silent.
Cross Over
IF FOR ANY REASON a known customer of yours crosses over and requests orders. WE DUMP THE ORDER - WE NEVER CROSS OVER YOUR CUSTOMERS - GUARANTEED.
As a trade supplier we know you are our customer.

Our business model is supplying you many times with utmost loyalty.

Blind Shipment
We offer Blind Shipping for resellers, wholesalers and graphic firms. Ask for trade manager via contact us.
Authenticity
We offer FREE underside tags sewn into hems with the sign firm name/logo. Your customers will see your details for re-order with you.
Zero Risk
Access trade printing with zero risk, Free Factory Protection is included with every order.

Committed Orders

If your orders are above 11,000+ ft per month we commit additional resources for you. Read more.

Materials
18 materials are offered. See Tech Data Sheets Here
Vinyl & Billboard
126", 196" High | Oz. Range 8oz~36oz
Shade Cloth & Mesh
64", 72", 126", 196" High | Oz. Range 4oz~24oz
Fabrics & Polyesters
95", 126" High | Oz. Range 7oz~18oz DyeSub
Easy Order
You do not need to login to order. Our special technologies allow you to upload, preview, approve and print via session ID's. You'll be able to watch as your order moves around the factory and to your door.
Read more
October 2023
Factory printing fabric and display grade polyester for manufacturers, shop retailers and sign company.

With a lower price per ft, our fabric printing machines and finishing services are sought by the leading store display companies in United States including major retailers, sign companies and marketing agencies.
Do you need this in other sizes?
---

---