Trade Printing from

$1.15 ~ 6.23
September 2023
Trade Buyers please Order via Phone
Shipping United States | Complete Confidentiality | Inhouse Printing & Finishing
Material
Seamless Height
Vinyl & Billboard
126", 196" High | Oz. Range 8oz~36oz
Shade Cloth & Mesh
64", 72", 126", 196" High | Oz. Range 8oz~24oz
Full size Printed Mesh ROLLS | Tradie Banners
Fabrics & Polyesters
95", 126" High | Oz. Range 7oz~18oz DyeSub
Ink Life
Genuine 5 Year Outdoor UV protected anti fade 'sign maker' quality inks. We take care in our colour profiling and ink selection best suited to supplying trade buyers with quality 'reseller' status and worry free purchasing.
Equipment List
Machinery and capabilities
Modern facilities including wide format printing mesh banner, shade cloth roll printing, automated grommetting, high speed welding and sewing machines. Print-Finish capabilities of full size mesh banner rolls ship out status every 23 minutes.
Services
In-house Artwork, Sewing, Printing, Welding, Packaging. We Are A Full Service Large Format Printer Service with worldwide printing customers.
Experience

We bring you 20 years of wholesale supply in this specialized field, and have experienced people you can talk to about your custom trade printing. Posters and vinyl banners, backdrops, truss frame, identity tower, trade show graphics and custom wall backgrounds, We take pride in our worldwide printing system and guarantee your satisfaction. When you want your large format printing done perfectly- and on time every time- talk to us- the trade printing supply experts.

Our large format printing shop includes a complete prepress shop, banner shop, flag shop, billboard shop with modern large and grand format printers of up to 196" width, and a complete finishing shop for roll to roll and trade show graphic finishes. We have the skill, the systems, and the daily capacity to turn your job around quickly and affordably.

Our vinyl banner printing shop can produce outdoor vinyl banners up to 16 ft wide and 150 ft long, seamless and with amazing color resolution, and our UV curable, Dye Sub and DTG machines print directly on vinyl, polyfabrics, mesh and trade show graphic fabrics. We also stock super strong heavy duty billboard medias and retail store display graphics!

We are large enough to have the right people and equipment to do your job well and offer personal management and attention each project. As an experienced large format specialist, it offers customers searching for trade printing United States a reliable ordering system, online 24-7.

Blind Shipment
We offer Blind Shipping for resellers, wholesalers and graphic firms. Ask for trade manager via contact us.
Easy Order
You do not need to login to order. Our special technologies allow you to upload, preview, approve and print via session ID's. You'll be able to watch as your order moves around the factory and to your door.
Read more
Factory signage and big banners custom made to suit wide span and seamless UV printing for outdoor.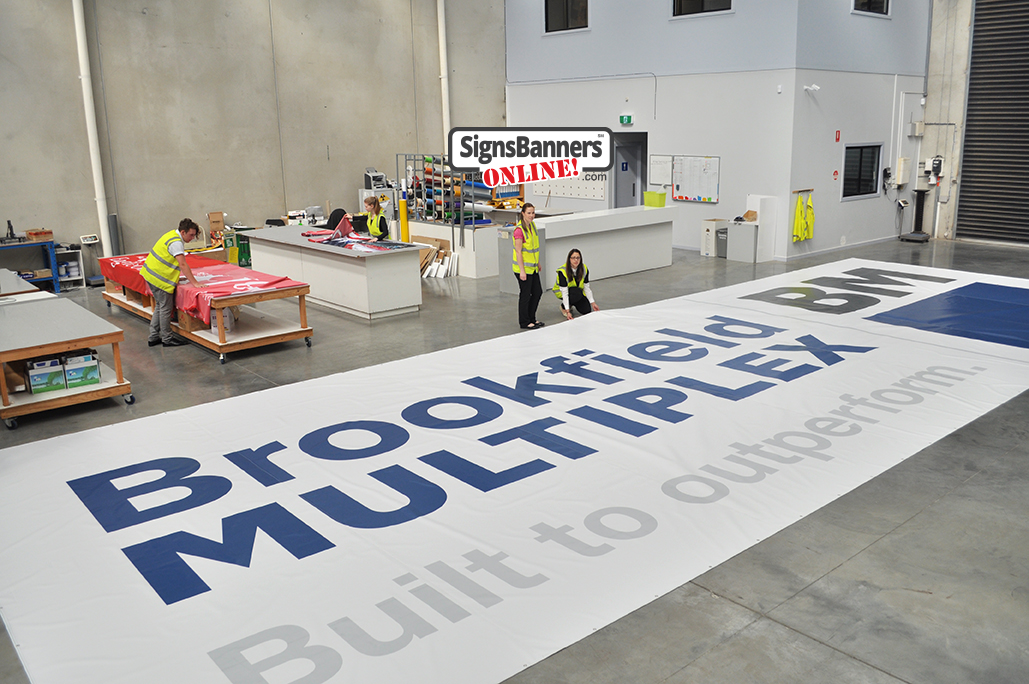 With a workspace bigger than most, and up to date large and grand format printing equipment inhouse, you'll save heaps using our trade printing banner services.
Do you need this in other sizes?
---

---