How it works!
We are the factory...
So you'll need a manufacturing template
We give them to you free!
Two methods.... Do-It-Yourself... or... We do it for you
Use our Free Manufacturing Templates then overlay your creative and upload.
You can self-upload ready to manufacture, preview, pay and orders begin anytime day or night.
It's faster, easier and step by step.
Do It Yourself Orders - MORE INFO
Manufacturing Template... then upload
Signs Banners Online are special. They allow you to Do-It-Yourself SETUP and remotely publish manufacturing ready files. They also allow you to create 'custom' overlay templates on the fly suited to your customer size requirements. They are an experienced and flexible big banner sign maker - and they are well favored by other signage firms and advertising agencies who know they are buying their web to print banner signs online directly from a factory with lowest prices.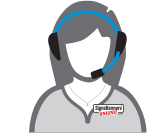 Free Manufacturing Templates
Free Setup and Uploading
Free Online Proofing
Free Order Tracking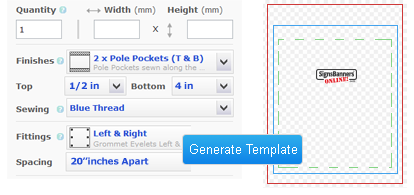 Manufacturing Templates
The manufacturing template they provide you are easy to use... meaning each size or option, fitting or choice is dynamically created using their free website feature that gives you as a customer a superior 'customized' template you can overlay your graphics and upload for Web2Print sign printing and sewing.
You will need a graphics software program such as Photoshop.
So if you decide to go Do-It-Yourself, all you really need to understand is that you are entering the factory with the order setup for instant printing and their human involvement is minimized.
You upload correctly formatted file for each banner.
Upload = Manufacturing Ready - Job Tickets are created - Print Queue is set - All is ready to go.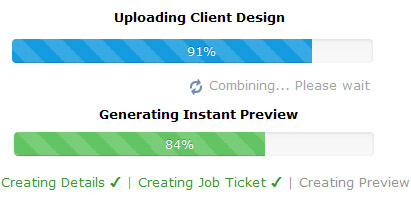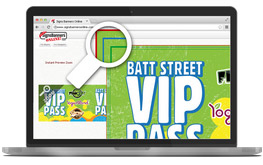 Preview Success
Uploading un-finished, wrong size or incorrectly formatted files will not succeed. If you're unsure how to overlay graphics onto a full size manufacturing template 1:1 72dpi CMYK PDF, we suggest you employ a designer or let us do it for you.
Pay and the factory begins.
Shipping is everywhere
And you can manage all aspects of your order from the comfort of your desk or device.
The shipping label becomes your tracker via your 'MyPage'.
You can get started without a login. Then watch as your order moves around the factory and to your door.
---
You'll need graphics software such as Photoshop
Need help creating a custom order? Free or Pay services we're here to help you acheive.
Our in-house art department know how to setup big banner printing that gets results fast.
We set and upload the Manufacturing Templates then give you the preview.
We order for you - MORE INFO
If you're unsure how to setup a banner sign for large size printing, then use our design department. Send your logos, images and INSTRUCTIONS to us and we'll do it for you.
We are Fast!
Choose the level of service that best suits you.
$0 Setup, partial setup and design or full service design services, our team have all the skills to help you achieve.
In-house and ready to go, we can save you hours and money using our professional Let Us Design department.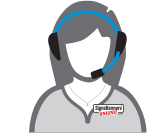 All graphic services
Setup and Uploading
Free Online Proofing
Pre-flight Inspections
We can upload for you and show you the preview for your approval too!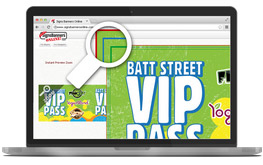 ---
We do it for you Starts at $0
What sort of work can I get done?
Printed vinyl, fabric, mesh - buildings shops events displays construction realty
We have experts making CUSTOM SIZE banners, event signage, flags and display expo fabrics, fence mesh, large outdoor pvc vinyl banner and indoor shop window poster banners.
Huge Factory Discounts
Custom size and wide choice of materials
Outdoor quality with many fitting choices
Wholesale rates
Direct to you
Talk directly with the factory If your'e a first time customer, in the creative field, a wholesaler, a reseller or agency, we can manufacture your banner signs as you need them AND... if you have Do-It-Yourself graphic setup skills you'll be able to upload your orders directly into the printing queue too.
We host the top 16 materials used in the world so you'll be sourcing the best purposed quality everytime! It's another reason why leading United States signage vendors, agencies and franchise stores buy direct wholesale printing services from us. You can too!
Custom - as you need it 90% of all our orders are - custom size - custom graphic - and made to suit you... and we accomplish all that via our award winning online services.

Free Shipping
Free shipping USA and Canada.

Do you need samples?
Ask for a sample book here.

Do you need help with setup?
Free or Pay Choose Here.

Buyer Protection
We offer full buyer protection for you included free.
---
How do I start ?
Manufacturing Template, Then Upload...

It's easy!

If you're a reseller or customer buying for the first time wholesale, download a free custom size template you can overlay your signage graphics on, then upload for perfect manufacturing results.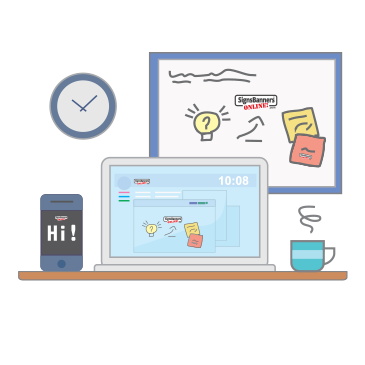 No login is needed. Choose materials, sizes, fittings and options. Use the Easy Template Maker, Then generate.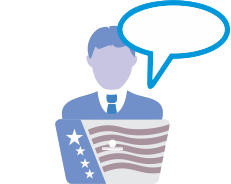 If you need a little help, we offer many free services too!
Live Chat
File Setup
Free Help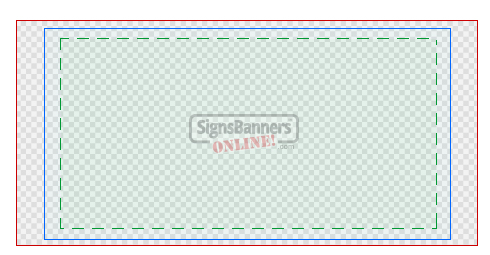 Download your manufacturing ready template file and overlay your creative. Our template will match your custom choices.
Easy Template Maker
---
How do I setup correctly?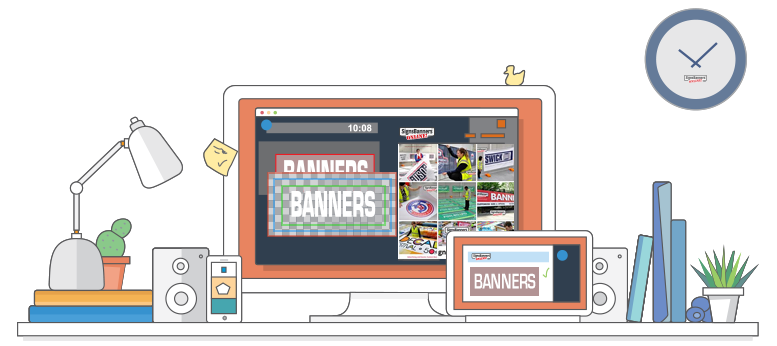 1 Overlay your creative onto our manufacturing template...
How do I get a production template? Use the free Easy Template Maker and input your custom requirements.
Diagram: Shows the 3 major elements of the manufacturing template.
Input your choices and the Easy Template Makers matches the template to your order.

Do-It-Yourself? IMPORTANT You'll need graphics software

You need to decide IF you can setup the creative print file?... Or have a professional designer do it for you.
S B O is an automatic printing and sewing system and files must be set up correctly including edge positioning (fold over bleed).
Remotely publish production files direct to the printing queue. It's faster, easier and cheaper!

You can get started without a login, upload, preview & approve.
---
Do you want us to setup for you?
Sure, We have cost effective options ready at your fingertips. Setup and Design Starts at - $0.00
Setup prices are very cheap, faster and suited to your needs.
---
Do you want to talk FREE to a designer Pre-Order?
Easy, please fill in this page and a graphic designer will help.
No login needed
Using special internet technologies, you do not need to login or create an account to order, template or use any features
of the Signs Banners Online website.
Your shipping address becomes your order tracker... it's fantastic!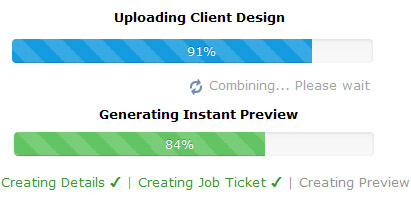 Upload to the factory.
Automated previewing and proofing at your fingertips!
As the uploader receives your file, it starts generating your preview.
Signs Banners Online automatically assigns your order into the fastest print queue ready for manufacturing. For the designer, its faster, immediate and they know that the order begins without delay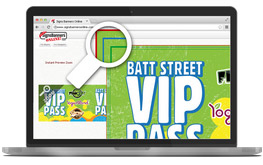 Preview, Approve and Pay.
Zoom, inspect and approve your work before payment. It's the easiest way to proof your work online.


Sessions are secure.
Your security is priority. Sessions are unique and can not be hacked. All payments are via PayPal encryption.
---
Capacity
With the capacity to print over 100,000 sq ft every week, you order will be trade printed and dispatched very fast!
"It's the perfect way to order cheap signs and banners online!"
---
Be in control. Keep in contact.
Customers get access to their special 'MyPage' free features to keep in control, and at the important factory milestone completions they recieve an inbox message too!
Always know whats going on with your project, what's getting done and the next stages of your order.

You'll be able to order and ship out to any part of the nation. Release payment to the factory when your goods arrive.
Your full range of signage ideas, banner printing and custom posters for advertising are now all available once you contact www.signsbannersonline.com
More than 10,000 projects completed
See how others are using Signs Banners Online, material selections and our story.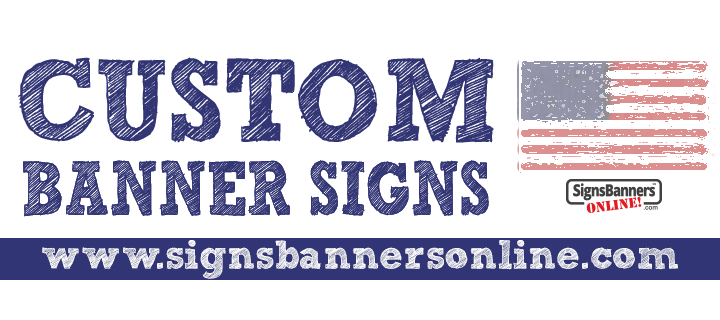 Mesh, Vinyl or Fabric
We do it all. Indoor and outdoor, we host the top 16 materials used in the world. It's why leading United States signage firms and franchise stores buy direct from us and use our wholesale printing service. You can too!
100% Reviews
We strive for solutions and to give you success. Read more November Reviews and why more graphic firms use SBO than any other provider.
Shipping is everywhere
We proudly ship out free all over United States and near you twice per day.
Lets start the conversation with Free Help from our award winning design support team.