Material Identification:
Poly Ethylenet Terephthlate
Poly Vinyl Chloride
Di Iso Nonyl Phthalate
Calcium Carbonate
Barium zinc Organic Coplex
Titanium Dioxide
FIRE: Flame Retardant Din-4012-B1 USA NFPA 701. Draperies used in public spaces. Test Method: DIN4102-1: Name of Product: PVC BANNER (suitable test) Conclusion: When tested as specified, the test results of the submitted samples not exceed the requirement of DIN4102.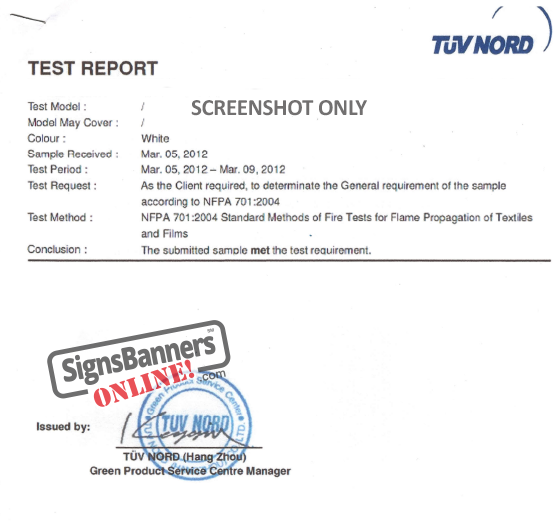 Fire Fighting Flammable Limits In Air: NA. Fire Fighting Media: Standard Agents, Dry Chemical Foam, CO2, Water, Spray (fog). Fire Fighting Equipment: Wear full bunker including self contain breathing apparatus to avoid exposure to smoke and vapors. Unusual Fire And Explosion Hazards: NA. Physical & Chemical Properties: Melting point 250°C. Decomposition Temperature: >350°C. Conditions To Avoid: Temperatures above 350°C will cause decompositions in the presence of oxygen. Solubility In Water: Neglible. Chemical Stability: Stable. Incompatability: Incompatible or can react with strong oxidizers, bases and acids.
Material Fibers are coated with minor quantities of finish oils. Textile processes may volatilize portions of these finishes and produce visible misting in the workplace. Ventilation is recommended to minimize exposure to such finish mists which should not exceed a concentration of 5 mg/m3 ACGIH TLV for mineral oil.
SBO does not warrant banner materials for the following: Seamed in order to make a large banner. Ripping, tearing or damage due to the effects of the weather or environment or installation.
Maintenance: Use water for cleaning printed surfaces. The cleaner must be wet, non abrasive and without solvents or alcohol. (Solvent and alcohol can damage the banner material and printed images.) The cleaner must not be either strongly acidic or alkaline (pH value 3.0~11.0)
Tension: Do not apply tension to the banner. Too much tension may damage the material; therefore keep the tension under 7kgf.
PVC VINYL banners are/maybe coated with ink. Textile printing processes may volatilize portions of these finishes. The inkjet ink prepartion isn't classified as dangerous and it contains no hazardous material after curing during normal handling and operation. At tempertures between approximately 130-190°C the applied finish may evaporate or decompose. Residual solvents post 128 hours: 0.05%.
The information in this Material Data Sheet page relates only to the specific material designated and may not apply where such material is used in combination with any other material or in any process. This information is to the best of our knowledge based on accurate and reliable information, but may be subject to revision as new information becomes available. However, no representation, warranty or guarantee is made as to its accuracy, reliability or completeness. Each user is responsible for satisfying itself as to the suitability of such information for its own particular use; therefore additional safety precautions may be required. E&EO.