Vplus™ Vinyl Banner PVC
Vplus is super strong 16oz scrim PVC vinyl banner with inner no-tear layering used for outdoor branding in all sizes by using wide format roll to roll signage printing via DTG hi-speed machines.

''They are now the leading supplier of quality Vinyl Banners for American brands everywhere''.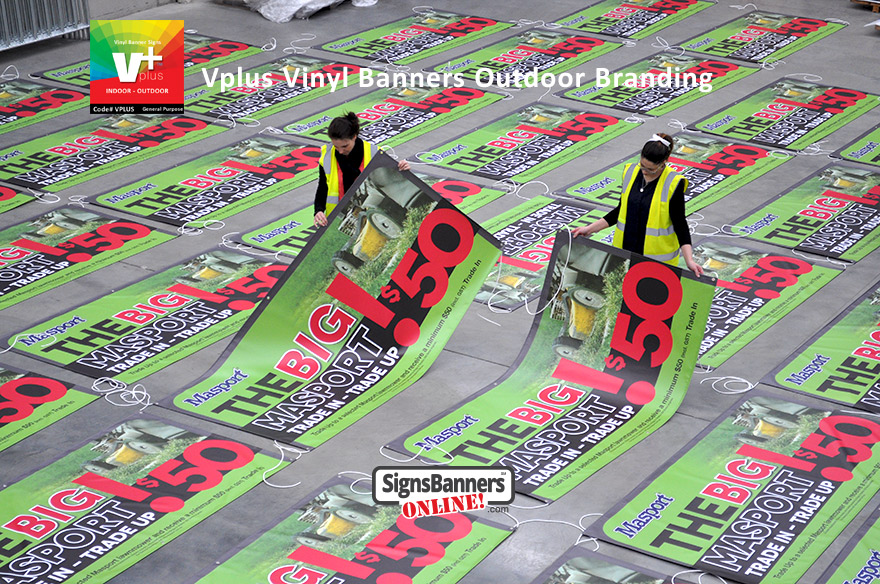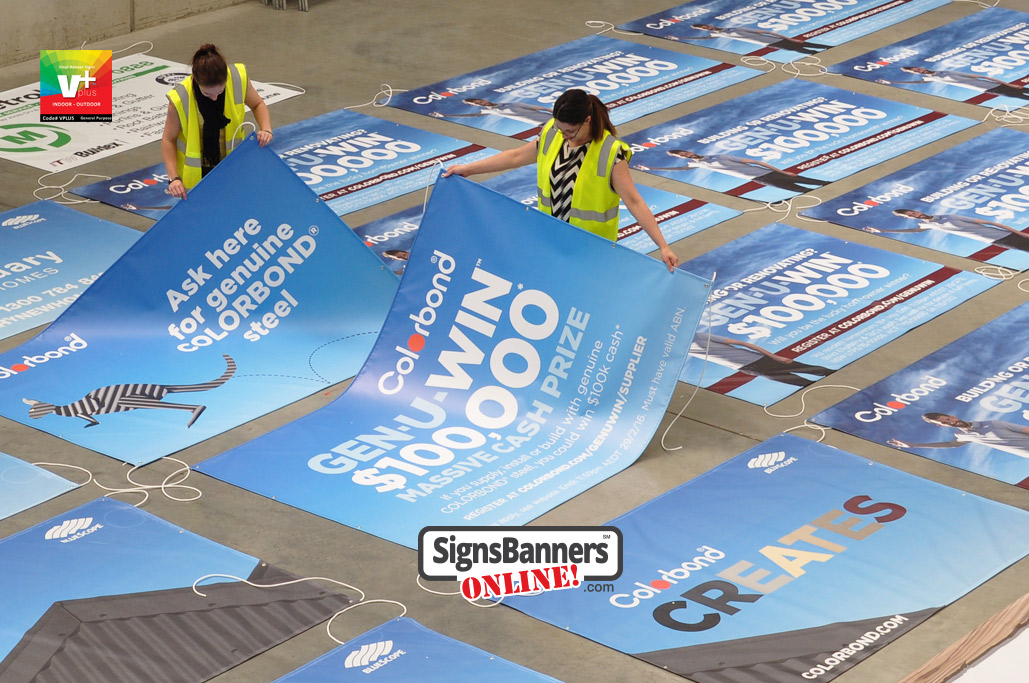 Use Vplus for:
General outdoor advertising vinyl banners
Shop, factory, field day, hanging, wall and fitted banner signs.
All Industries signage. Short term promotional signage banners, low cost makes bulk ordering easy.
Vplus Vinyl Banner (VPLUS) is a smooth scrim pvc vinyl with inherent internal weaved structure as a minimum lay. PVC is popular with general signage companies due to it's relative ease of production and relative looks however many differing qualities will make the product a success including finishing such as hemming.
"Thank you very much my vinyl banners are amazing. I am happy to refer vplus to all."
"Vplus is a better vinyl banner, the inner structure makes it so much stronger".
Frequently Asked Questions
The three (3) most common questions are:
#1 Billboard sizes are joined from master rolls.
#2 Hems.(Hems ARE NOT banner taped.) We use industrial sewing or seam welders. See positioning
#3 GSM = 16oz Inner Structured (This is the + symbol) PVC VINYL
Material Data Sheet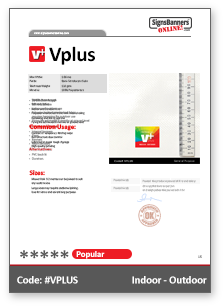 ---
Video
Comparison VPLUS is a scrim pvc vinyl material with ink on top without penetrating the fibres. It may scratch, crease or mark.
Comparison: Vplus is excellent color accuracy. Printed in CMYK digital process.
It is preferred by retailers because:
Traditional product.
Medium cost.
Custom size to suit customer orders.
No minimum quantity required.
Easy to attach with many fitting options including silver no-rust eyelets, ropes, hook n loop and pole pocket sleeves for securing banners to a pole.
Superb clarity
Strong
Long life color
Large sizes may be folded for shipping.
Note: Also consider Heavy Duty or TEPRO600 Te-Pro Canvas.

Actual Material (image dark for screen view only) of the surface/pattern. Color Whiteness = White 90% Creme 5% Black 5%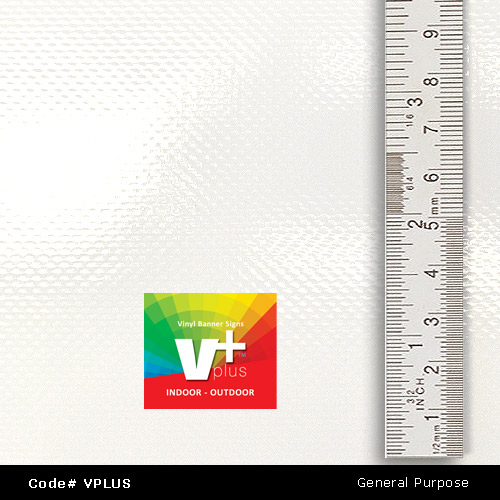 Sizes
Medium to Large:

#1 Size is unlimited, the size range is medium to large. Events may order one (1) piece or fifty (50) pieces all custom sized to suit their applications.
#2. No mimimum dimensions, No minimum roll length.
Ideal for branding and bulk printing. Quantity discounts are available.
Supplied to over 150 brands, agencies, designers and sign firms.
Factory sewing and fitting. Special requests available.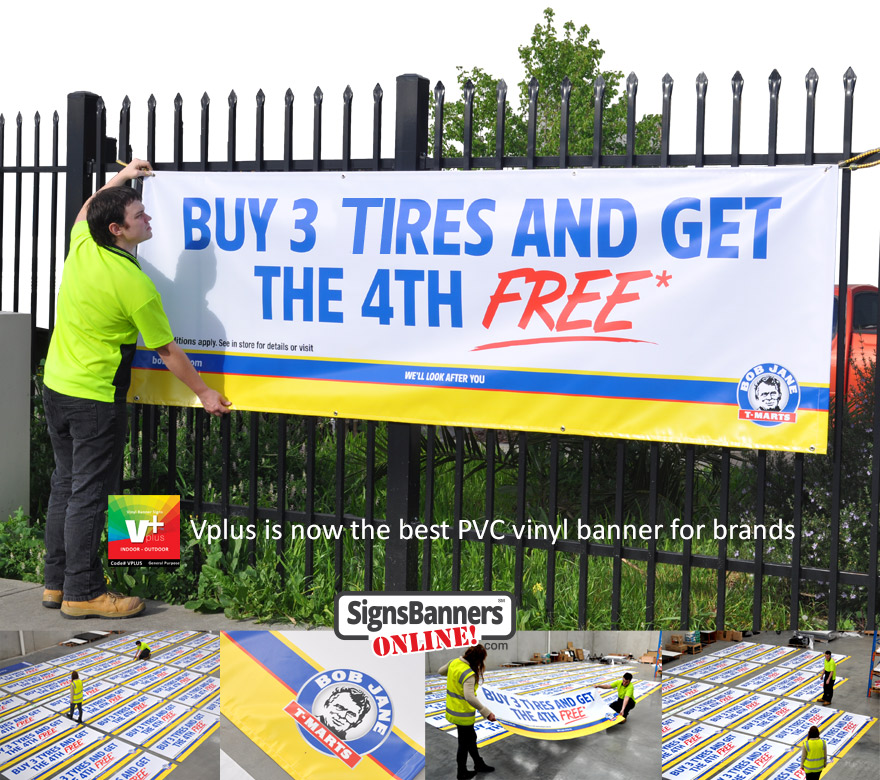 Ideas and Usage
The vinyl banners offered by signs banners online are excellent value, quality and color so if you're a brand manager, its the one to use for satisfaction.
Use for general purpose signage advertising materials - semi-flexible. eg: Banners, signs, displays.
Great for business advertising signage and banners, sales announcements eye catchers and general signage. Customers also use for sales, clearances and other yard signs. Available in custom sizes to match your order, vinyl banners for outdoor advertising with full color printing and art can also be used indoors.
Vinyl banners can be manufactured with pole sleeves, eyelet grommets and specialized features custom to your needs. Discounts available.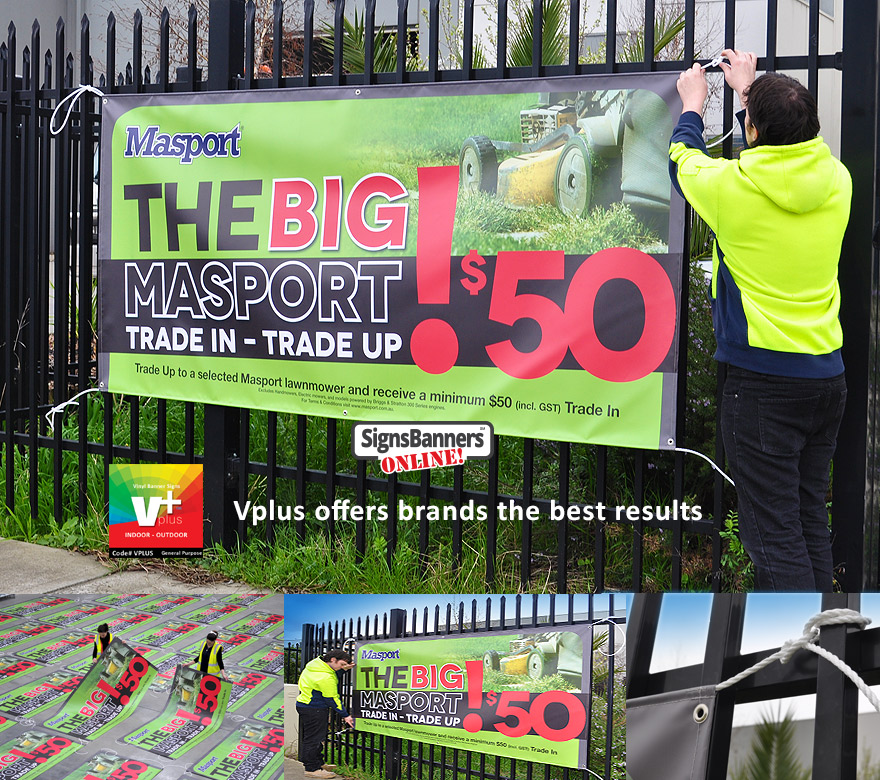 Vinyl Banner
-10% September Discount
16 oz Sheen
Outdoor Material
UV Stabilized 5 Year Ink

400D x 400D Inner Woven Rip-stop Membrane
Twin Layer hemmed edges
UV Polyester Threading
No Rust Grommet Eyelets
Ropes, Pole Pockets, Hook n Loop, Sail Track Beading

Vplus offers superb color output, long life, general purpose and durability.
NOTE: We use and recommend Vplus for our own signage.
Vplus is #1 customer favorite.