Te-Pro Canvas

Banner

TePro Canvas is a popular banner sign for structures and walls, indoor hanging displays and outdoor banners and is made for signage.

It has highest print capability and colors. Te-Pro Canvas Banners are a staff favorite. Te-Pro is an all purpose indoor-outdoor material well suited to general signage including events and is cheaper than PVC vinyl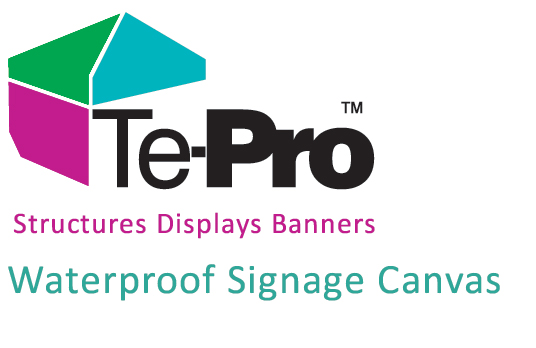 STAFF FAVORITES
"With superb sign printing, amazing vibrancy & strength... We all love the results Te-Pro banner offers our clients"
Use Te-Pro Canvas Banners for:
Water-resistant applications such as outdoor banners
Shop banners, billboard banners
Fine texture is ideal for interior design
Replaces vinyl banners for high quality printing and color vibrancy. Perfect for close displays
The TEPRO600 (Modern Waterproof Canvas) is well suited to replace vinyl PVC banners and shows a higher color rating, higher vibrancy and lettering definition. Retail designers can freely use Te-Pro for outdoor work including large banners through to interior design and canvas printing for walls, structures and panel mounts. It has a water-resistant coating known as AquaPhobic Coating.
OUTDOOR Te-Pro is manufactured for most common outdoor applications such as custom banners, stretch rope banners, front side pole banners, bleachers, tent facades, mounted wall banners etc. INDOOR Te-Pro is very popular amongst modern interior designers because its tight weave gives amazing design outcomes and the material can be wiped down with damp cloth.
Frequently Asked Questions
The two (2) most common questions are:
#1 How strong is the canvas? Heavy Duty FINE denier with aqua-phobic coating (Waterproofing).
#2 Is outdoor canvas printing high resolution? YES, Te-Pro Canvas Banners offer a high printing quality versus vinyl pvc banners. The aqua-phobic coating also includes a print accelerator for stronger printing outcomes succceeding 1440dpi at the print head.
---
Comparison TEPRO600 is a cross weave linen pattern with waterproof coating and a bold denier loom pattern.
Comparison: TEPRO600 is 126% print brightness vs vinyl. Superb blue orange magenta outcomes.
Banner Material Popularity:
No.1 Te-Pro
No.2 DuraBanner
No.3 Maxi-Mesh
No.4 Vplus PVC Vinyl
It is preferred by retailers because:
Superb quality printing and can be used for interior displays and canvas mounts
Low costs and outdoor durability.
Large size achieved
Waterproof and well suited for outdoor conditions.
Cheaper than PVC vinyl
Keeping up-to-date is easy with our realtime chat, 24/7 support, time tracker, and info apps.
Pay for work safely and securely. Only release payment when you are satisfied with the work provided!
Material Data Sheet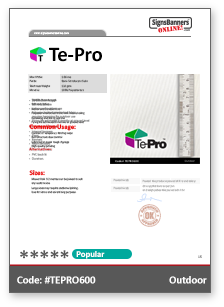 Actual Material (image dark for screen view only) of the surface/pattern. Color Whiteness = Creme 5% White 95%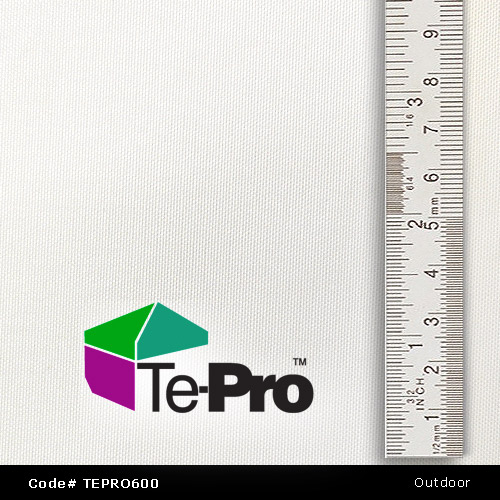 Sizes
Any Size Dimension, Any Design: #1 Size is unlimited, large or small. Events may order one (1) piece or fifty (50) pieces all custom sized to suit their applications.
#2. No mimimum dimensions, No minimum roll length.
Note: Te-Pro Canvas banner is commonly purchased to suit end to end fittings such as a structure or in between fittings, hanging heights to full length wall and outdoor banner site applications such as 2 feet, 3 feet, 8 feet, 250 yards or 3 miles etc. Order to suit your client and customize size.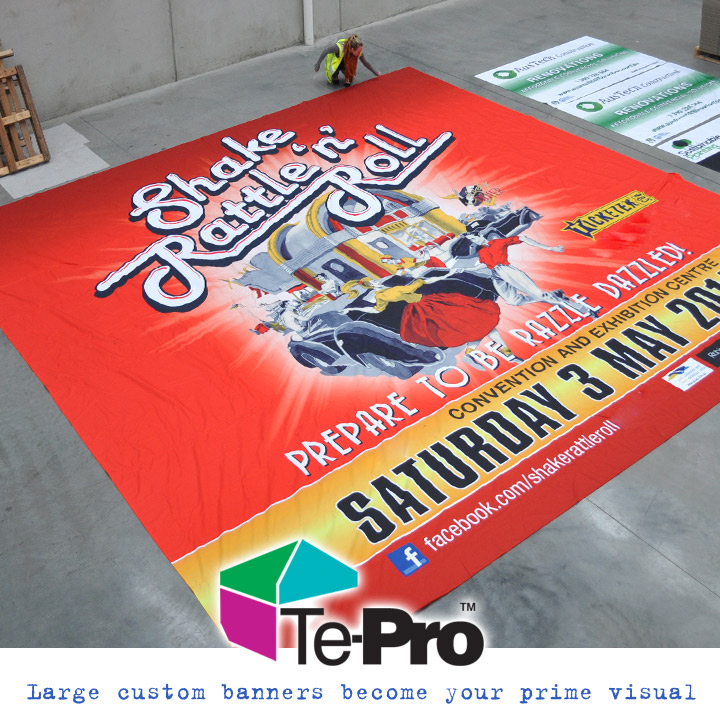 Ideas and Usage
Canvas banner is excellent for interior designs and shopfitting panels where the 'canvas' look and feel is used for fashion, outdoor stores, fine art or rugged looks. Te-Pro is very popular amongst clients in retail and presentation.
Outdoor - Canvas banner replaces many cheap vinyl prints and looks superior. Stronger and with more successful print results, canvas banner modernizes your displays.
Hanging - Customer love the hanging banner style using canvas. It has visual advantages and can be sewn with pole pockets and more to make hanging an easy experience.
Canvas banners can be manufactured with pole sleeves, hook n loop (Velcro), eyelet grommets and specialized features custom to your needs.
Use for Shop & Retail - Outdoor general signage, Stretch Wire or rope - Advertising banners, Indoor POP and Wall Poster, Outside banner signs and promotions, general purpose.