USB

Ultra Smooth Banner

USB is popular scrim vinyl banner with interior/outdoor printing and popular for banner stand graphics, retail point of purchase and small-large sized banner signs with high definition grand format printing results.
Signs Banners Online are now the leading supplier of vinyl banner brands in the world!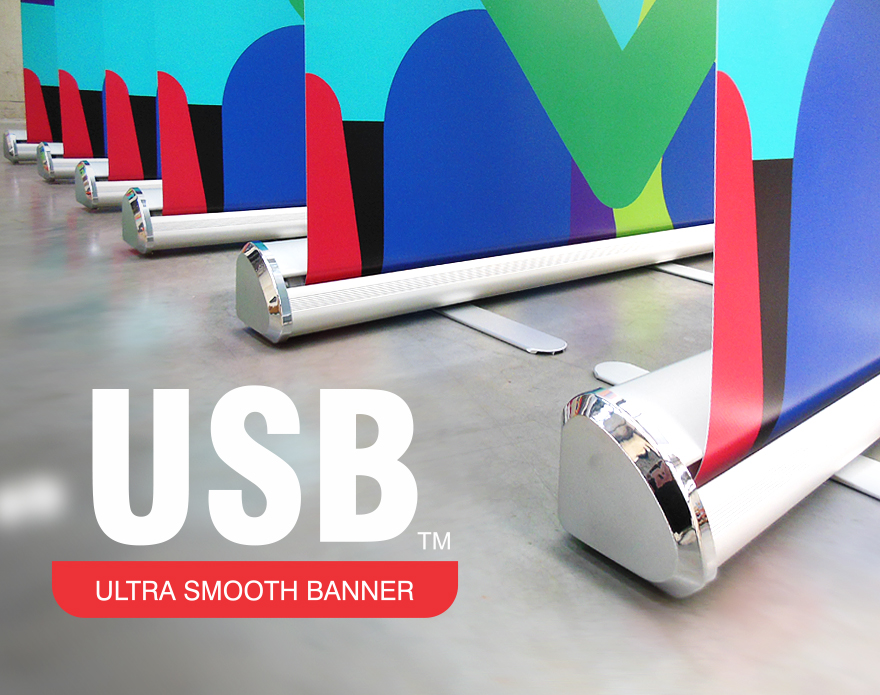 Use Ultra Smooth Banner for:
Store window hanging banners
USB is a semi-blockout and is popular for hanging retail and store Window SALE banners and poster ideas.
Banner Stands
Retracting and X stand, Media and interview, product expo and presentation.
Retail and Promotional
Banner stand graphics
Advertising Agency quality prints
General outdoor advertising vinyl banners
Shop, Point of Purchase.
All Industries signage. Short term promotional signage banners, low cost makes bulk ordering easy.
USB Ultra Smooth PVC Vinyl Banner is a smooth scrim pvc vinyl with inherent internal weaved structure as a minimum lay. PVC is popular with general signage companies due to it's relative ease of production and relative looks however many differing qualities will make the product a success including finishing such as print coat definition for which USB is famous.
"SBO often use over 200 rolls per month ensuring you receive newest material that works. With many generic copies out there, it's good to know SBO use the best foundation materials for their clients."
"Fantastic Service - Great Product - Such a pleasure to deal with."
"Their ultra smooth pvc banner is a superior product for banner stands. Non curl and looks better."
Frequently Asked Questions
The three (3) most common questions are:
#1 Maxi sizes are joined from master 5' 1.55 metre rolls.
#2 YES. You can use all options including pole pockets, hems, hook loop, tongue and knife edge only.
#3 GSM = 410gsm Blockout grade PVC VINYL
Material Data Sheet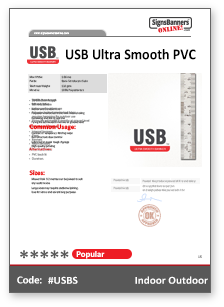 ---
Video

by Design Department
Examples & Ideas

by Design Department
Let Us Design
Comparison USB Ultra Smooth PVC banner is a scrim pvc vinyl material with ink on top without penetrating the fibres. The material is ideally suited for hanging banner and pole pocket. Excellent definition of graphics and powerful colors. Ink weights can be set at 400cc or higher offering amazing output of color gamuts.
Comparison: USB is excellent color accuracy. Printed in CMYK digital process.
It is preferred by retailers because:
Traditional product.
Low cost.
Custom size to suit customer orders.
No minimum size, No minimum quantity required.
Easy to attach with many fitting options including, banner stand tongue, silver nickel eyelets, hook n loop and pole pocket sleeves for securing banners to a pole.
Superb clarity
Strong
Long life color
Disadvantages: The product may scratch, can not be folded without creasing.
Large sizes may require seam joins.
Actual Material (image dark for screen view only) of the surface/pattern. Color Whiteness = White 88% Creme 5% Black 12% (#USBS is a 'blockout' grade material and offers excellent results).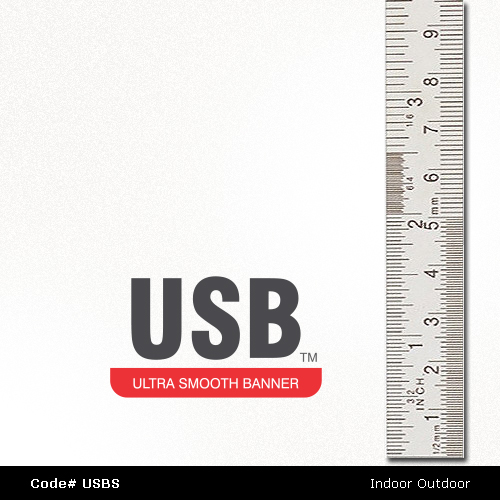 Sizes
IMPORTANT Roll width is limited to 5' 1550mm. Large sizes are seamed and joined:

#1 Final Size is unlimited, the size range is small to huge. Events may order one (1) piece or fifty (50) pieces all custom sized to suit their applications.
#2. No mimimum dimensions
Note: Vinyl banners are an all purpose vinyl pvc material with outdoor printing inks used commonly for general outdoor advertising and faced billboard structures.
USB is ideal for branding and bulk printing. Quantity discounts are available.
USB is supplied to over 600 brands, agencies, designers and sign firms.
Factory sewing and fitting. Special requests available.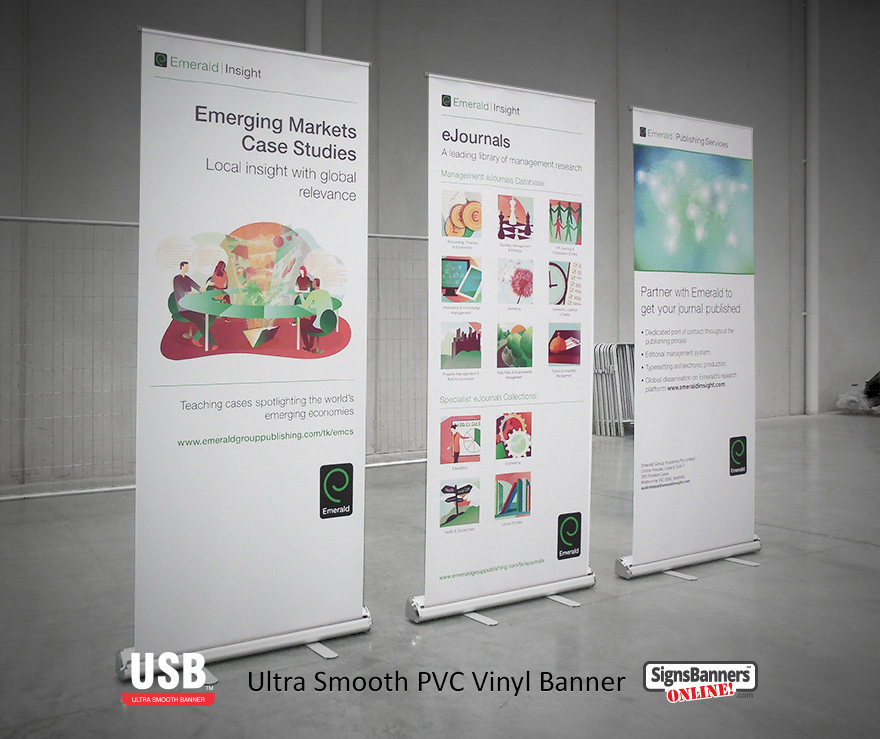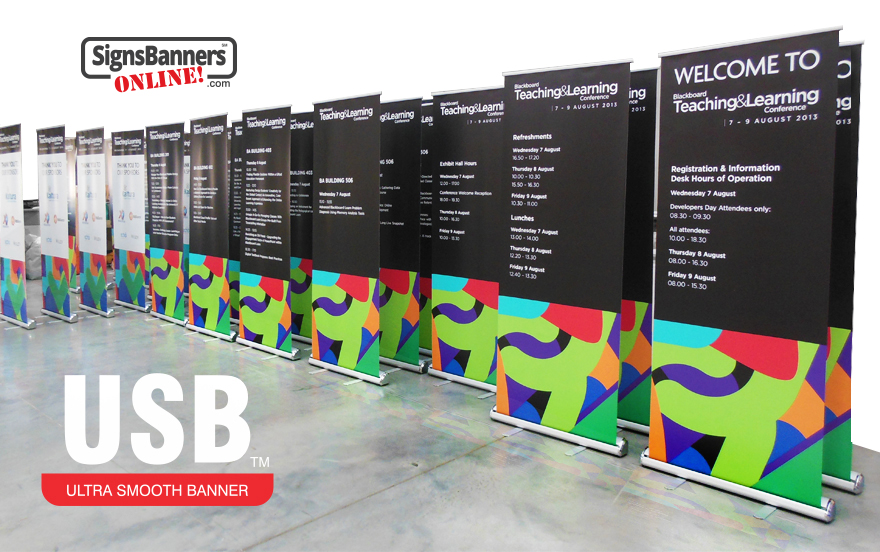 Ideas and Usage
The vinyl banners offered by signs banners online are excellent value, quality and color so if you're a brand manager, its the one to use for satisfaction.
Great for those agencies with high class corporate customers who need a genuine banner stand print that wont curl, fade, crack or peel. This material has been produced now for over 10 years with zero defect.
Vinyl banners can be manufactured with pole sleeves, eyelet grommets and specialized features custom to your needs such as bottom tongue's for fitting to your banner stands.
Vinyl Banner - USB
-4% September Discount
14 oz Ultra Smooth
Indoor / Outdoor Material
3 Year Ink
Store window hanging banner
Banner Stand options

No Rust Grommet Eyelets
Pole Pockets, Hook n Loop, Tongue, Special fittings.

USB is popular for hanging banners inside windows for retail window dressing and store posters.