Realty Hoardings
Architects / Engineers:
Makeup: Inner 20*20 100% PES 1000D Structured & 36/17 Coated PVC VINYL
GSM 510. Tear Strength High: 2200 N/5cm MSDS
Longlife Outdoor Ink. 720 x 1440 dpi full photographic quality printing.
SiteMaster is anti-mould & UV protected. 5 year color warranty all angles.
Fittings available inc: • Keder • Nickel Plated Eyelets • Hemmed Rope • Pole Pockets
No minimum roll required. Custom size to your order.

INNER BINDING: Polyethersulfone (PES) has an outstanding ability to withstand exposure to elevated temperatures, movement and ageing.

OUTER COATING: PVC is an excellent and durable material. Ideally suited for both RF welding (36/17 coating) and Sewing using Polyester threads. *36/17 means +> 50% RF weld surface.

EDGING: Genuine Keder sail track beading or Hemmed & Nickel Plated Grommet Eyelets or Inner Hem Roping

CUSTOM MADE: Made to suit your application. Supplying realty building management/builders/developer via your instructions.

Join for tall span sizes. Currently available 5'5" 1600mm. Join for larger Built from 1.6m roll height
SiteMaster™ 'Designed for Industry'
Use for hoarding signage advertising materials - wall and panel keder fittings. eg: During Realty Construction Signage SiteMaster™ is a engineered pvc vinyl banner designed for building applications, hoardings and full photographic outdoor displays where the best print quality and endurance is required.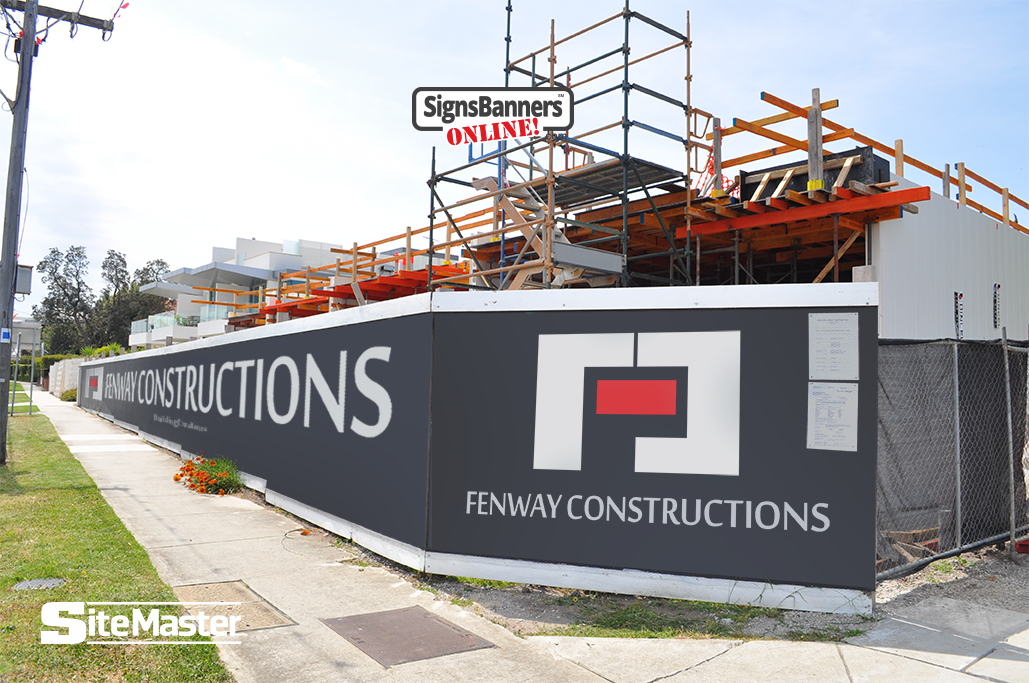 Signs Banners Online are now the leading supplier of wholesale quality Vinyl Banners.
Use SiteMaster for:
Keder - plywood hoardings & walkway boards
Facing and Skins. During construction wall banners
Architectural conceptual and planning illustrations. Proposed development billboards and hoardings.
SiteMaster™ (Sitem) is a smooth scrim pvc vinyl with inherent internal weaved structure as a minimum lay. PVC is popular with general signage companies due to it's relative ease of production and relative looks however many differing qualities will make the product a success including finishing such as hemming, keder (sail track beading), grommet eyelets and roping.
"Investors, buyers and tradies all comment on the building quality by looking at the outside hoarding prints."
"SiteMaster™ is a better option and lasts longer".
Frequently Asked Questions
The three (4) most common questions are:
#1 Monster-Large are discretely joined from master rolls.
#2 Sewn edges. RF seam welders. Seam welding will change/affect approx 2" 50mm of your edge color from artwork.
#3 14 oz PVC VINYL
#4 Matte Surface. Once printed, the matte surface has a slight sheen. Ideal for angle viewing.
NOTE: Sitemaster is a 'cover material only'. It is not a safety fall product.
Material Data Sheet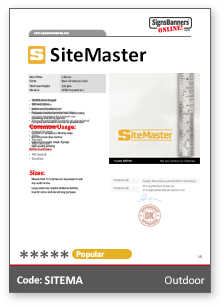 ---
Video
Comparison SiteMaster™is a scrim pvc vinyl material with ink on top without penetrating the fibres. It may scratch, crease or mark. • Can be coated clear varnish.
Comparison: SiteMaster™is excellent color accuracy. Printed in CMYK digital process. Achieves high color gamut output.
It is preferred by Architects/Builders because:
Strong. Durable. Outdoor Quality.
Low cost.
Fitting options include Keder (sail track beading) Ropes, Eyelets, Webbing edges.
No minimum size, No minimum quantity required.
Can be RF welded for super max sizes.
Long life color. Waterproof inks.
Disadvantages: The product may scratch, can not be folded without creasing.
Large sizes may be folded for shipping.
Note: Also consider VPLUS or DuraFence Mesh
Material (image dark for screen view only) of the surface/pattern. Matte Color Whiteness = White 90% Creme 5% Black 5%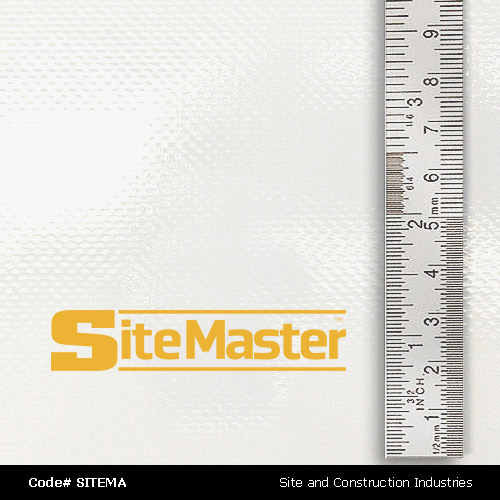 Sizes
Any Size Dimension, Any Design: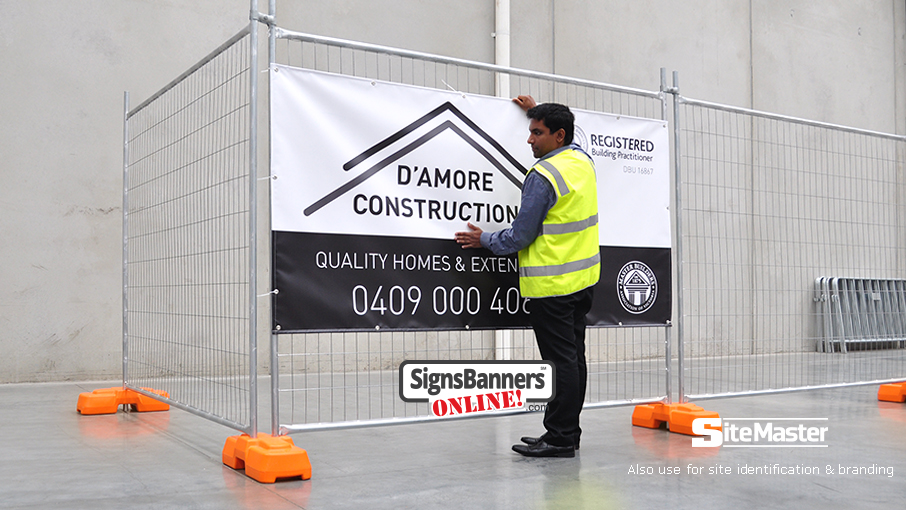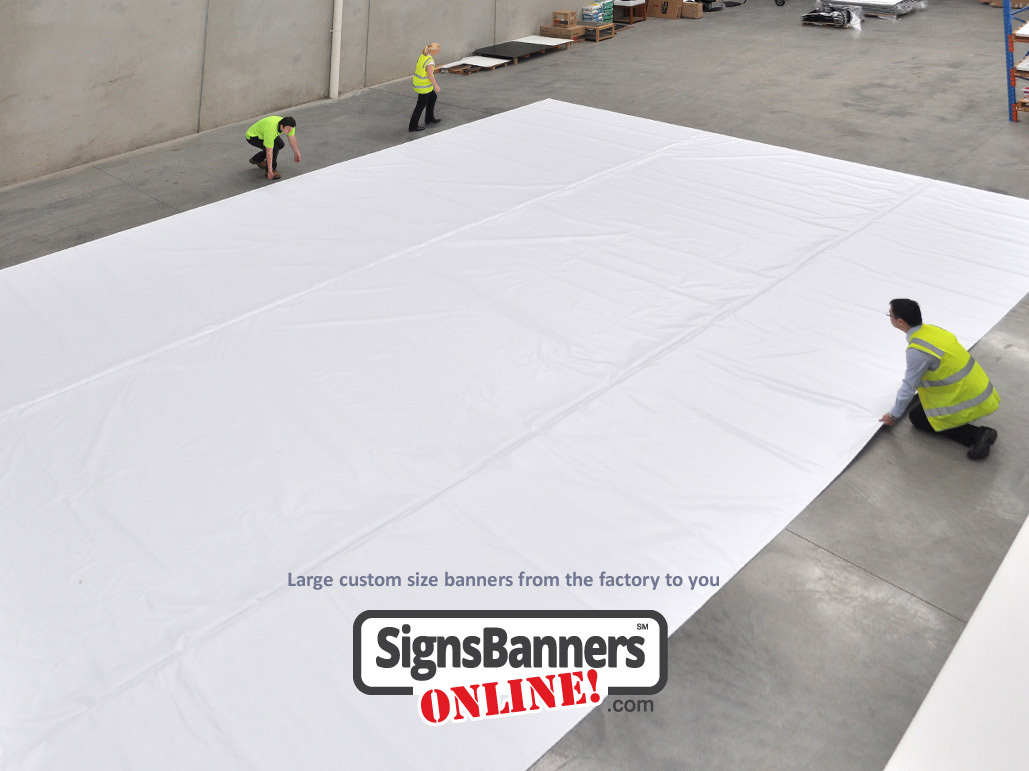 #1 Size is unlimited, the size range is small to huge. People may order one (1) piece or fifty (50) pieces all custom sized to suit their branding applications.
#2. No mimimum dimensions, No minimum roll length.
Note: Vinyl banners are an all purpose vinyl pvc material with outdoor printing inks used commonly for general outdoor advertising and faced billboard structures.
Branding and bulk printing. Quantity discounts are available.
Shipped nationally.
Factory sewing and fitting. Special requests available.
Hoarding Covers
-9% September Discount
14 oz Sheen
Outdoor Material
UV Stabilized 5 Year Ink

Super Strong Reinforced No-tear Inner Layer
Edging & Fitting Options
UV Polyester Threading
No Rust Grommet Eyelets
Ropes, Pole Pockets, Hook n Loop, Sail Track Beading

SiteMaster PVC VINYL BANNER offers excellent price coverage, fitting ability and clarity of graphics.