Grommet Eyelets

Stainless Steel #304L

Stylish marine grade grommet eyelets & washers are machine punched.

Pneumatically or Mechanically sealed grommet eyelets are automatically placed along the perimeter of your banners and signs to suit your orders preference.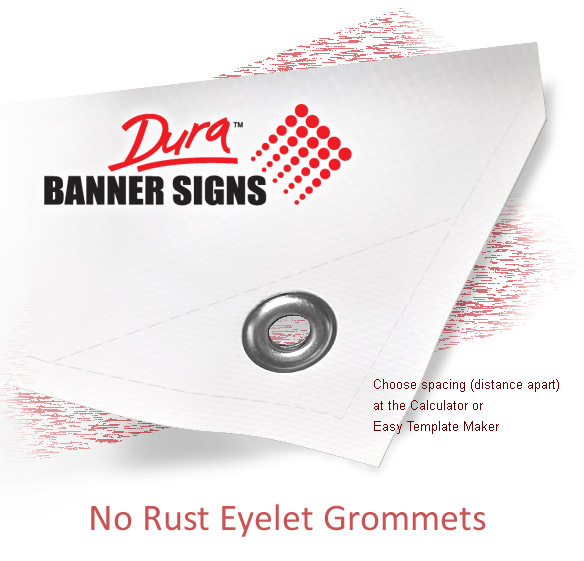 Frequently Asked Questions
The two (2) most common questions are:
#1 Where are the Grommet Eyelets placed? We place the Grommet Eyelets from Top Left to Right, Bottom Left to Top, Bottom Right to Top, Bottom Left to Top. Do not add placement marks on your files. We do it for you. Grommet Eyelet spacing (apart) is chosen at the Price Calculator or Easy Template Maker.

#2 Will the Grommet Eyelet rust? NO. We use Marine Grade Stainless Steel which do not rust, crack or split.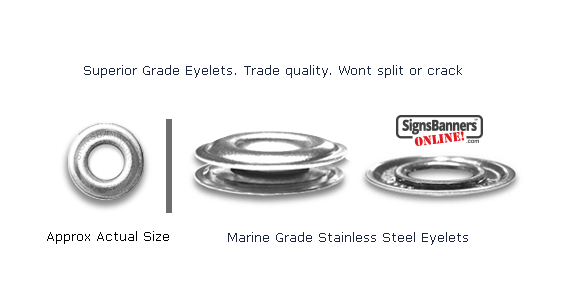 Size
Outside Diameter 13/16 inch 20 mm
Inside Hole Diameter 5/16 inch 8 mm
Material: Marine Grade Stainless Steel #304