Hi-Tenacity

Polypropylene 3 Strand Rope

Sewn INSIDE the hem and EXTENDS LEFT and EXTENDS RIGHT by the selected distance.
Eg. 3 ft, 6ft or 10 feet each end.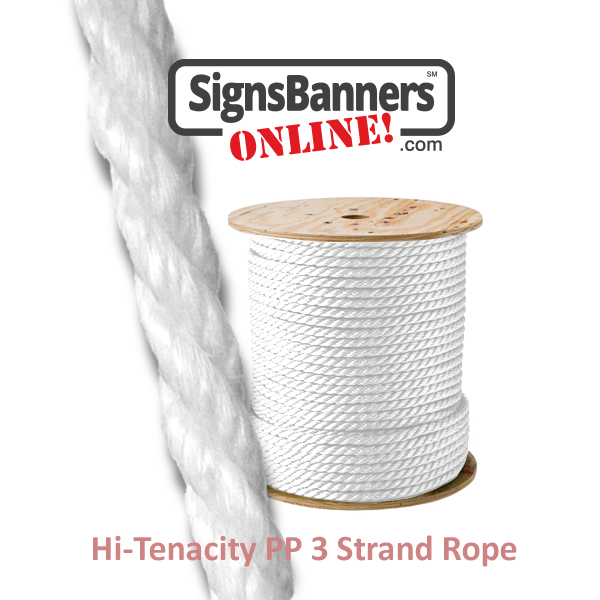 Thickness
Each End Extension Length
1/4 inch
5/8 inch
1/2 inch
3 feet, 6 feet, 10 feet, 13 feet, 16 feet (each end)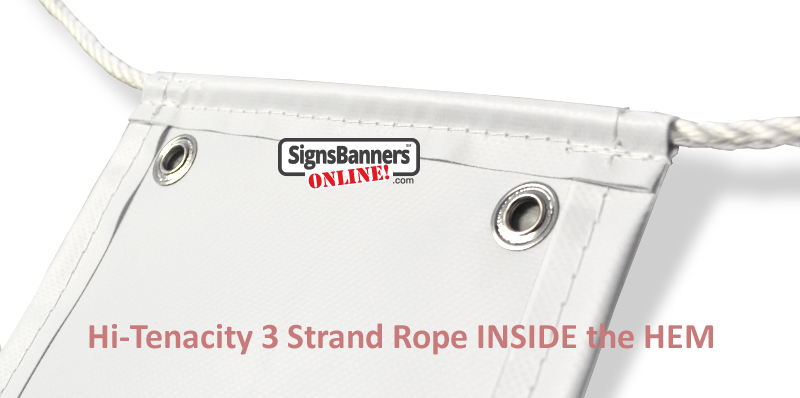 Choose the thickness to suit your tying span. Remember, the rope is full banner width inside the hem PLUS extends both ends for tying. This makes the strongest 'pull' available.



Frequently Asked Questions
The two (4) most common questions are:
#1 Are the ropes on each side? YES. Example: When you choose 10 feet ropes... THIS MEANS 10 feet EACH END.


#1 Can I also have grommet eyelets? YES. Choose the placement of eyelets at the Calculator.
#2 Can I have vertical ropes? TIME DELAY. Vertical ropes will require special communication with the factory support team and may require more time to custom make. Please use the Contact Us page pre-order.
#3 Can I purchase extra rope? No. Go to a local hardware for any additional rope purchases.
How is the rope manufactured?
We seam the Hi-Tenacity PP 3 Strand Rope inside the hem and LOCK off with special 'no slip' stitches. The rope extends each end for tying.