Oklahoma City
"Promotional signage".
Size out your 20 ft, 40 ft banners... any custom size to suit your applications.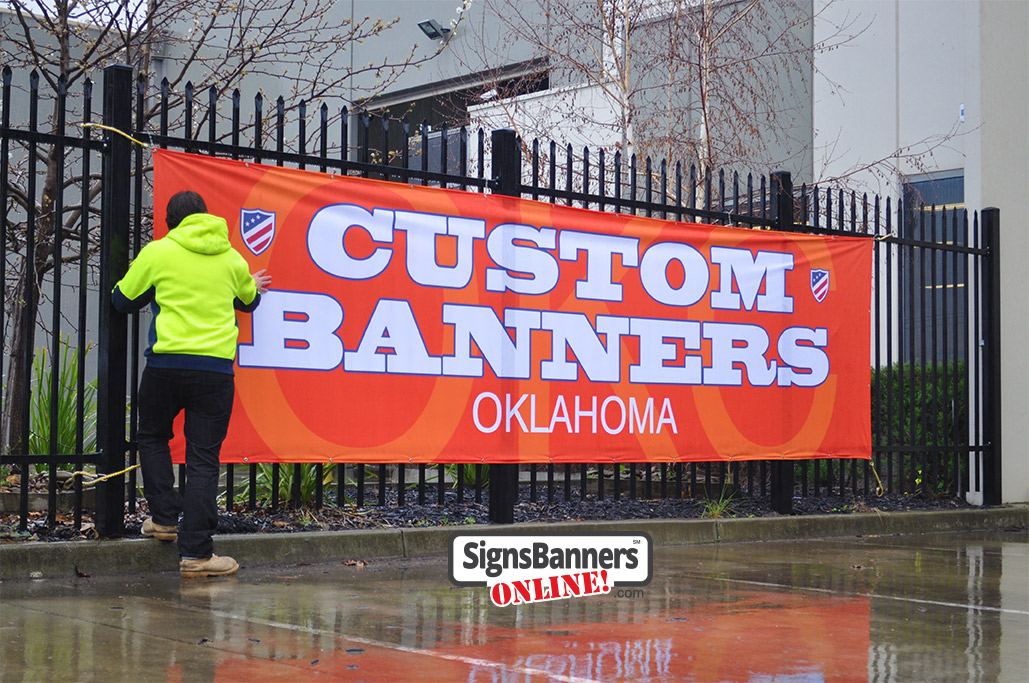 Custom banner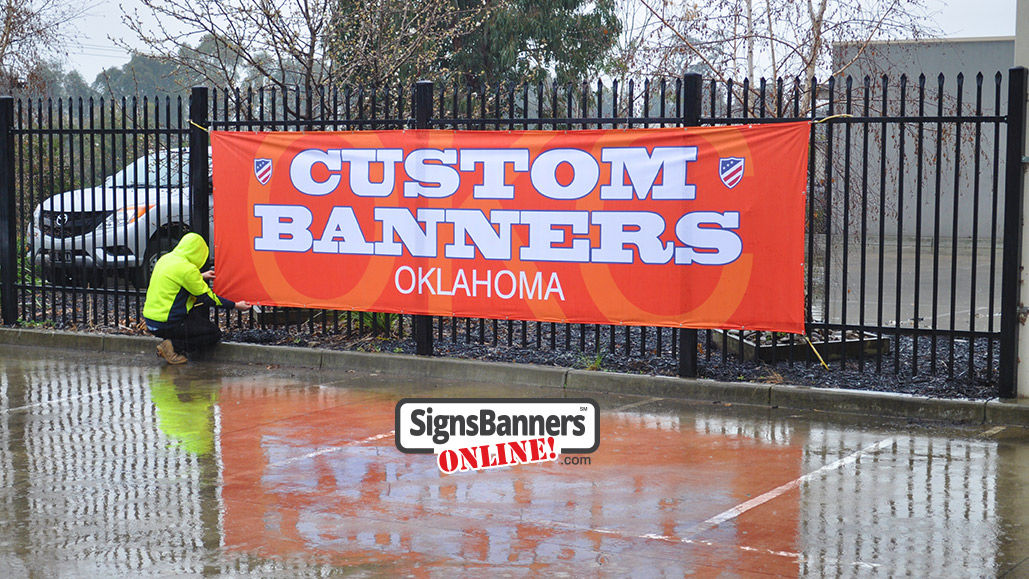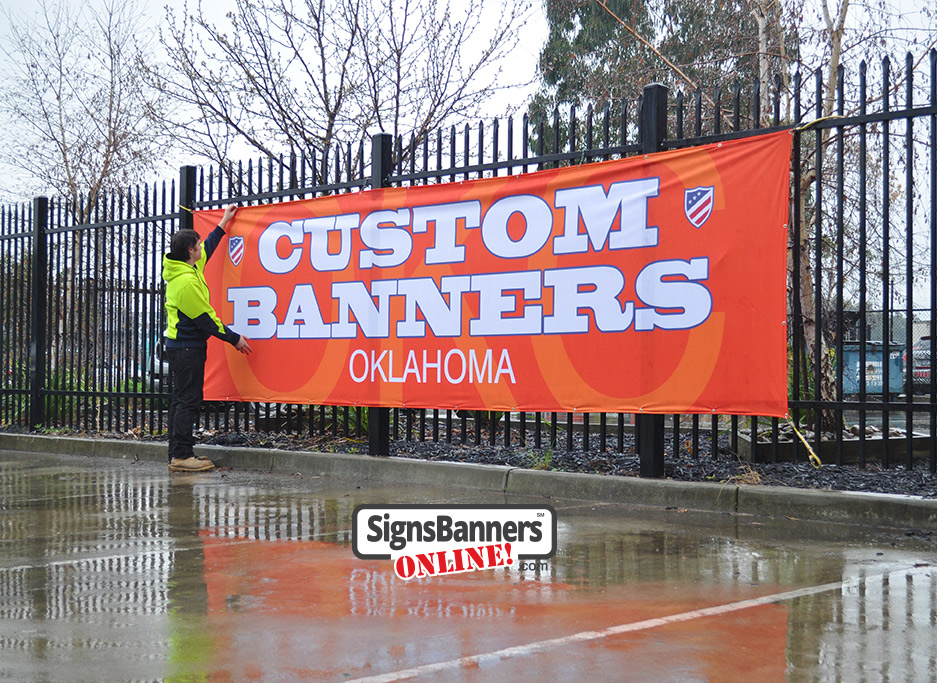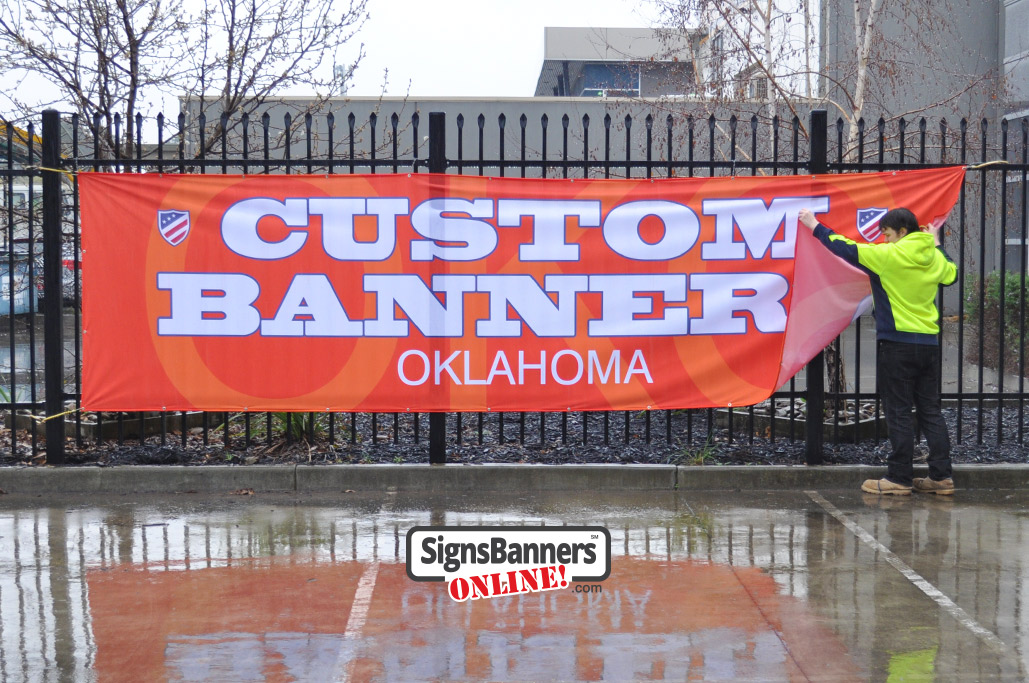 All weather
The material used by our manufacturing process is matched for heavy weather in reasonable applications.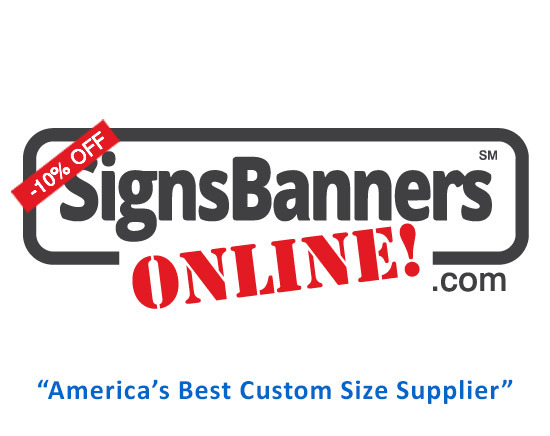 News

PayPal awards Signs Banners Online their highest honor

We are very proud of this result and look forward to showing you why PP regard us as a store to build your brand with.
New Super Wide UV Printer
The state-of-the-art Large Format printers are capable of producing everything from posters, banners and trade show graphics all the way to billboards, fence wrap and screens.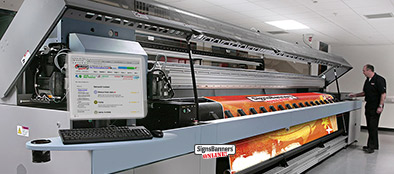 New 125" Direct to Fabric
With the addition of the 125" textile printer, you now have access to the largest and fastest dye-sublimation printers and heat presses available... and it's all factory direct to you. Combined with a capacity for over 100000 sq ft of Large Format Print per day it's now
ready for you to upload
.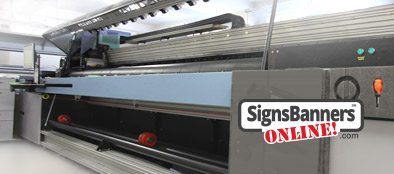 News
We are dedicated to supplying you with factory you prices, access to the latest printing equipment and resources.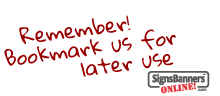 Techsheets & Data
Access Techsheets, material used and other product data.
Equipment & Machinery
Equipment List SBO currently printing via 3.2, 3.5 1640, 5.0 and other. Technologies include: Direct to Garment, EcoSol Direct to PVC, UV, Dye-Sub Transfer and Latex.
Get Help
Start with a manufacturing template available free from Signs Banners Online.

If you need setup help , please visit our setup pages or contact factory
Do-It-Yourself FAQ's
We are creating a new March FAQ's section here to help designers set up and manage their orders. It's full of wow!
Ideas
You have a project but dont know where to start, lets start talking one on one with a graphic designer who can guide you through the important elements you'll need, our factory support team are there to help you at anytime with helpful advice.
Let Us Design - We Do It For You
Do you have ideas but dont know how to implement them to get a final product? Use our Let Us Design page and attach all your inspirational images, logos, text etc and one of SBO's experienced Graphic Designers will compose your creative elements and show you the preview of the order.
For Designers
This site is by designers... for designers... and offers you direct access to the factory equipment, print queues, templating, order tracking, discounts and more.
To order: All you need to do is correctly overlay your client designs onto a manfacturing template, flatten and upload.
Now used over 18,053 times The Easy Template Maker is an amazing free tool. Simply input your client requests, and generate the perfect manufacturing template free!
Then, you'll be able to overlay your creative and send to a printing company.
It's the perfect way to order quality work online. To order, template or upload... you do not need an account. Your shipping label becomes your order tracker via a special MyPage link.
Specifications
All Custom Orders require Material Over Size Specifications matched to the order.
All Hemmed, AND, Pole Pocket, AND, Custom SIZE Orders require 1:1 file output via these specifications.
All Knife Edge Only Orders require 1:1 file output via these specifications.
All Economy Pre-Set Size Orders require these default manufacturing templates and can not be altered.
We Do What You Ask
The brilliance of SBO's online system it that it allows agencies to customize all their creative, then upload immediately into the printing queue.
The material substrates are world class and made for durability.
When you have special request, preset criteria or need other custom features, all you need to do is ask.
We are dedicated to wholesale, and look forward to completing projects with you.
For Customers - Welcome
We're glad you found us and look forward to making your custom products direct from the factory.
As a Wholesale Customer you can use our special manufacturing templates that you can customize to suit the needs of your orders. Free!
If you're are unsure how to setup or use a manufacturing template or how to use a professional graphics program such as Photoshop, We recommend you read 'Choose Who Will Setup The Order? (above)
You'll still have direct access to the factory, but will you'll need the template set for you.
Choose Who Will Setup The Order?
Do-It-Yourself
Your Designer
We Do It For You
Generate Manufacturing Template, overlay your design and proceed. You will need a graphic editing program.
Give your designer these instructions
Choose the best
'Setup - We do it for you'
service level here.

Can I pre-flight my files?


YES. You can pre-flight your manufacturing templates without payment. Continue through the order & upload stages as normal, and SBO will pre-flight your order automatically advising of any elements that need attention.
Instant Previews
As your order progresses, the uploader generates an Instant Preview for you to check.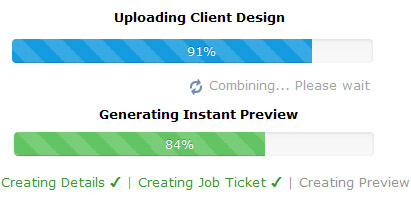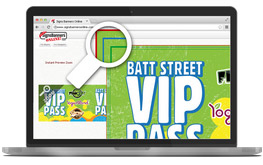 For Customers
What you need to get started?
Products & Options
Fabric Selection Guide
Prices
Price Calculator
March

Discounts* & Promotions*
Setup Charges
How do I pay?

10 Day Buyer Protection
After I order- What's next?
Artwork
Design Guides
Do It Yourself - Specifications
I have a designer... What do I do?
Let Us Design
About Us
Signs Banners Online is a wholesale printing service for the graphic design, advertising agency and wholesale buyer.
Offering many online features - repeat agencies or customers buying for the first time wholesale can order without login or account via our free manufacturing templates custom suited to their order.
Once you identify the print material for your banner or display, you'll be able to upload directly into the printing queue. It's faster, easier and cheaper!
Our Story
Created by a team of graphic designers specializing in making huge banner signs for customers. An idea developed to build an online website where graphic designers and wholesalers from around the world could effectively combine orders to lower prices. They upload directly into a factory printing machine and watch as their orders move around the factory and to their door.
Direct factory production offers designers a huge -35% price discount, and as time goes on and more people use S B O, todays discount is expected to grow as bulk savings are applied.
And... from the comfort of your desk, you can now ship out to over 150 Countries.
Dedicated to Wholesale
Products such as Vinyl Banner have achieved huge discounts that now offer our graphic designer friends, agents and resellers discounts.
See more... Wholesale Discounts

Do you need help with setup?
Free or Pay Choose Here
Support Center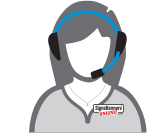 March Factory Prices

If you need help finding the lowest price... let's start talking trade prices now!