October

St.Louis

Making it work for you. As a recognized format supplier for major community events US, you can contact the factory crew pre deploy for creative set or step n repeat branding or CMYK advice.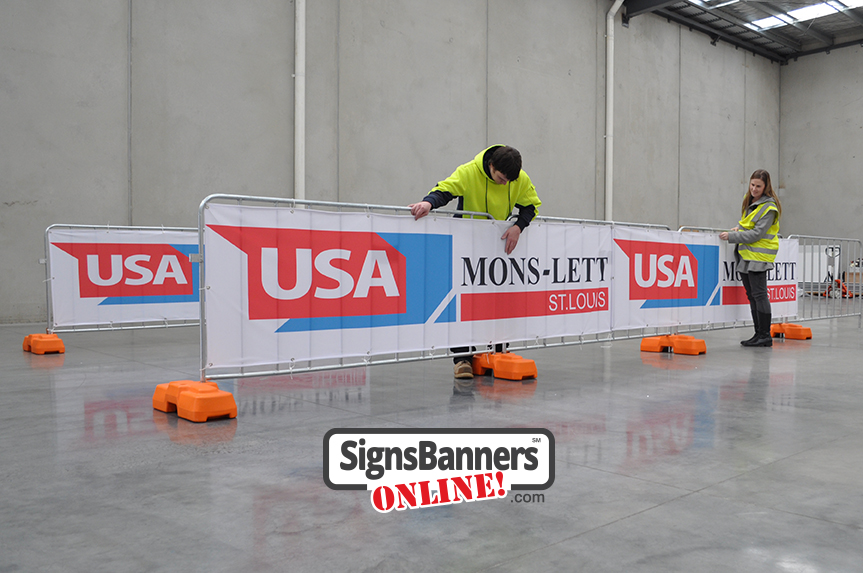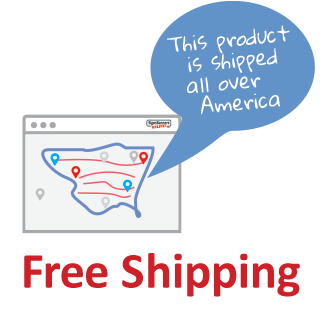 ---
Custom Printing
These large double grand format spreads are printed and sewn. It is common for corporate orders to be 50'ft long in a single span. IF you know how to make artwork it saves cost of print sectioning and mounting. Use for convention center displays Shreveport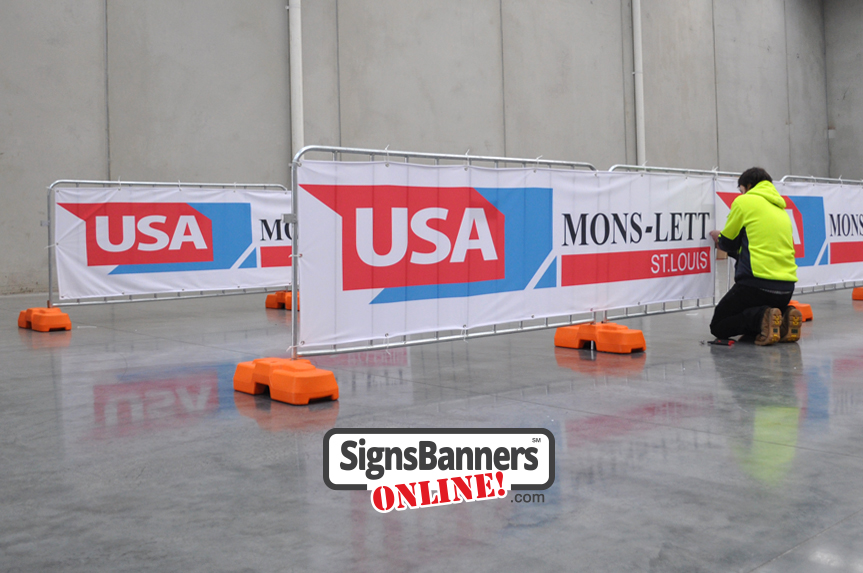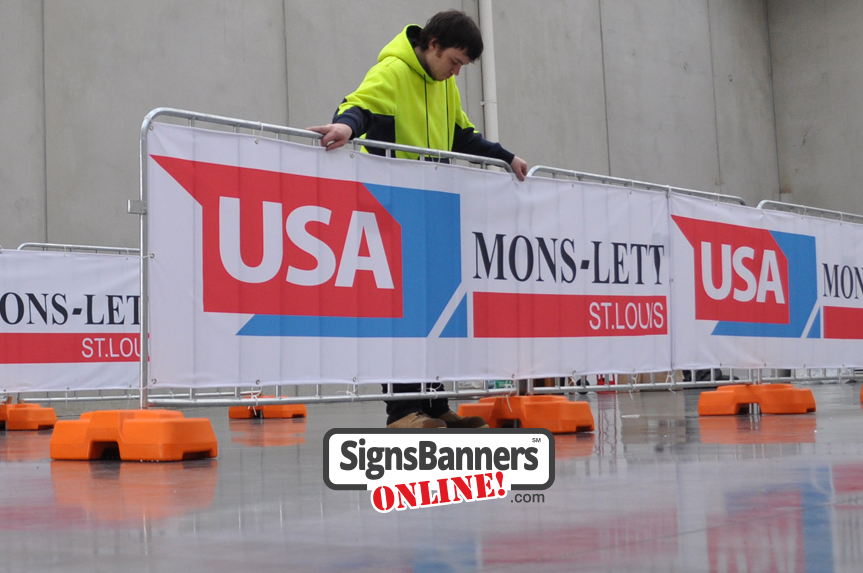 Event Signage Deployment
How to install the signage onto your stanchion or 'barrier' fences

Made of lightweight galvanized steel, EVENT-Crowd control barricade rentals are used short term and the rental company deter drilling into the framework for screws.

MOST COMMON ATTACHMENT: Mounting methods are zip ties, bungee and hay bale twine.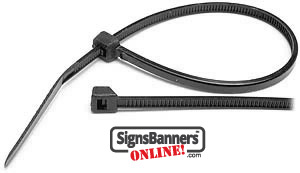 1. Attach top left grommet using zip tie then move and tie other top grommets to the fence
2. Pull zip tie end Tension and adjust each zip tie for a smooth result
Putting up the fences ready for St.Louis event pre and post deploy becomes better thanks to the spacing of grommet eyelets.
Installing using plastic zip ties is cheap and a secure method.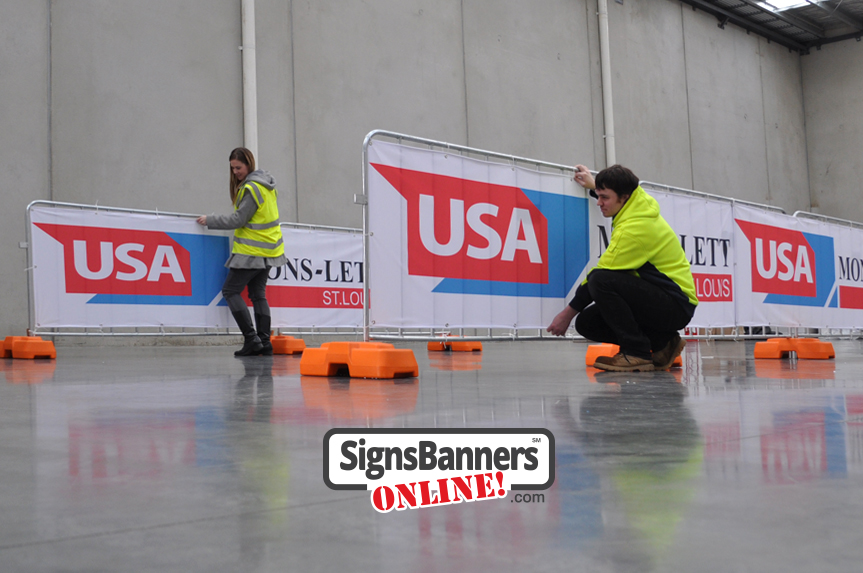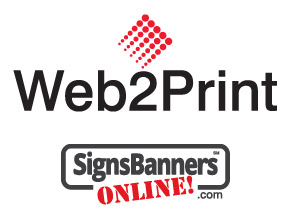 Showing the Web 2 Print sporting portable fences used at events for crowds to stand behind and watch the event
This online portal web 2 print system is used because if offers the company visible outfield branding and the costs are very low.
Advantages of the barricade promotion system are that items can be quickly set up, packed and stored. The tied on branding can be widely used at many events.
Attendees via:
CPRS (California Parks and Recreation Society) Sacramento, California
NIRSA (National Intramural Recreational Sports Association) Dallas, Texas
CSADA (California High School Athletic Directors )
NRPA (National Recreation and Parks Association) Las Vegas, Nevada
American Society of Landscape Architects Chicago, Illinois
ABC (Athletic Business Conference & Expo) New Orleans, Louisiana
NFHS (National Federation of State High School Associations) Orlando, Florida
Common size picketed galvanized steel units

Note: SBO supply custom printing not the rental of frames.
When estimating the proper size requirement for your covers please keep in mind to consider if your foot is a 'base level' style, base mount style, free standing foot, post mount or ground spike. The most common height is 'within top rail and bottom rail' so that the zip ties can secure an even fit.
The bottom grommet eyelets also allow pegging. See grommet size here.
When using a portable system keep in your thought and planning time allowance for up/down at the branded event and how effective placement will assist event flow, both pedestrian and vehicular traffic solutions. A well designed creative will assist your event flow immensely.
Local events supplier of printed banner jackets and fence prints as used by promoters and their sponsor logo's for economical crowd barrier advertising and in conjunction with promotion and outfield branding are cheap, look great and always add excitement to an event.
Modular systems also offer benefits for the hirer because they can partitioned this is why many clients prefer running signage along each span x5 or x6 etc so that at the outfield they can position the best angle for crowd viewing / safety / and mgt. It is best because people dont skip through the fence gaps. The 'no gap' custom size banner they can make is the best.
---
With social media sites and 'Self Photos' becoming more popular at our concerts, it serves us very well to have our branding logo element in the background at our gala's using our matte media pop up wall scene, it is a valuable tool worth considering by any size company.
Roll-over and Park managers use the tie on tie off nature of these step and repeat advertising banners for revenue generation and to enhance the look n feel of the park with promoted sponsors and visuals.
---
Printed Display and Hanging Shop Banners
Printed posters (custom logo for shop advertising) now available from factory to you.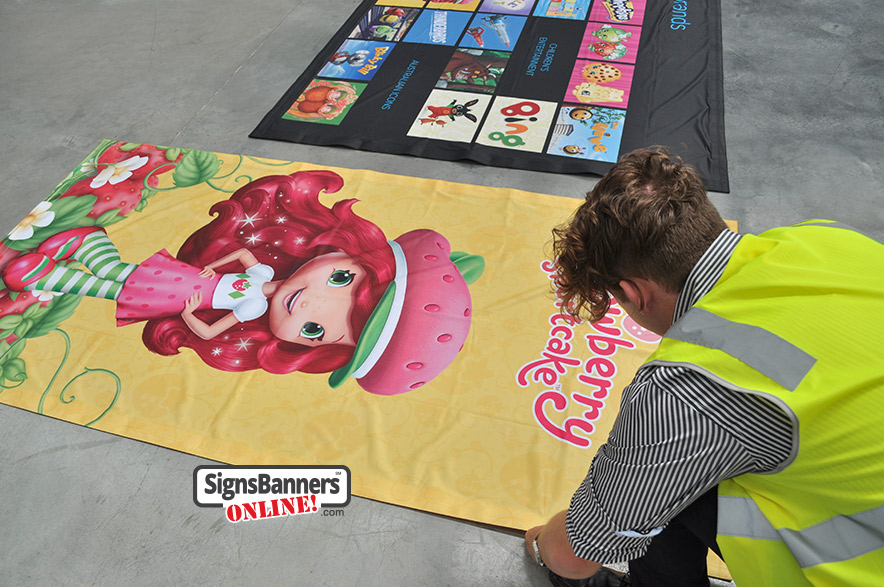 Custom size pop up wall graphics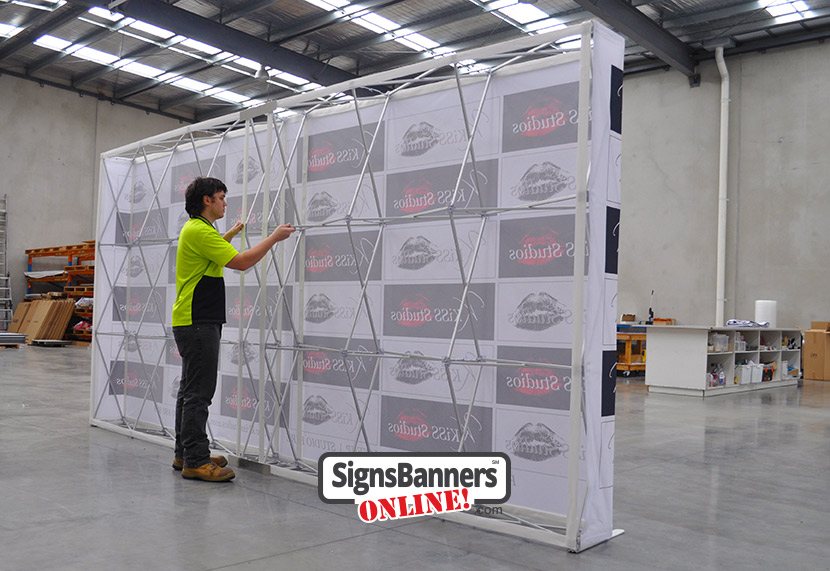 Custom size pop up fabric wall graphics and sizes you need for 3x3 media walls or larger. The factory can make any size