Calculator Steps - 1, 2 and 3 explained
The Calculator allows you to select custom options and start an order that will pass automatic systems and print your orders.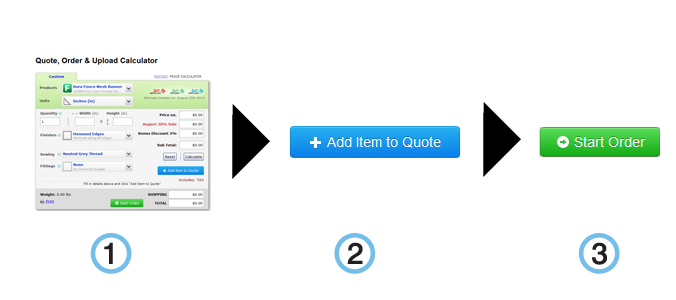 The Calculator controls everything.
Prices and Discounts, choose your options, click Add Item to Quote and the Line Item will appear below for each banner design.
You do not need a login to order. Once you have completed your quote, place your order by pressing Start Order.
The calculator gives you a session ID that follows your choices from Step 1-Prices through to Step 3-Start Order and allowing you to Upload a print ready banner file. Once you make your payment, your order is instantly placed into the printing queue and manufacturing begins.
Tip: The Order & Upload Calculator DOES NOT need you to create an account.
This page also has video help.How To Order