Your file appears to be incorrect MOS...
please reset your file.
What is this and what do I do?
We automatically check if your order has 'enough' material for us to sew the graphic hems or pole pockets. If you have not included suitable MOS (Fold Over Bleed) your file will be stopped. You will need to adjust your file dimensions to continue.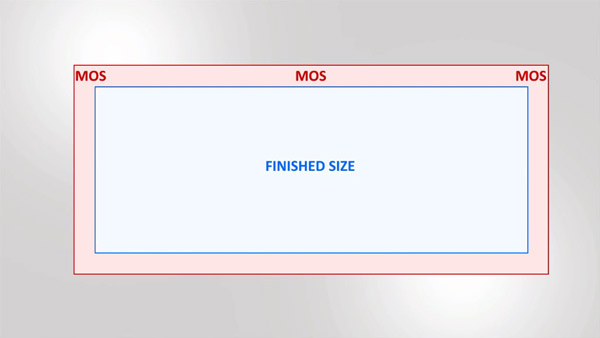 Explanation
When we make signs and banners for you, we use larger material that we cut and fold over to sew the hems. This is called Material Over Size (MOS)
We need this 'fold over bleed' to make hems, pole pockets etc.
Please remember: MOS is bigger than your finished order size.
Quick Fix - reset your file
Increase the dimensions of your file to include the Material Over Size
Flatten and save as a CMYK PDF
Re-upload and continue your order.
USE
To calculate your MOS (Fold Over Bleed) go to the Easy Template Maker
To resolve this, you will need to change your artwork to the correct MOS by using one of the following methods:
The easiest method is to generate an Easy Template from either the Easy Template Maker or Order & Upload Calculator. Open the Easy Template in Photoshop and begin setting up your artwork.


Check the MOS (Material Over Size) required at the time of quoting/ordering your banner on the Order & Upload Calculator. This can be done by clicking and downloading the Info Sheet. The Info Sheet lists the MOS (Material Over Size) required for the line item processed.


Use the Easy Template Maker at any time to find out the MOS for your order instantly! Enter the size and select the product, finish and fittings required. The "Artwork Size to Upload:" is the MOS required for the line item.