'Banner print ready' means all criteria is met
What is this and what do I do?
Offering a wholesale avenue for you to order banners and signs 24-7, there are a few critical checks to ensure you receive a quality product that you can self manage... the first status being 'print ready'.
Banner print ready means your files are suitable for large printing that will be cut to oversize, folded and sewn, maybe include grommets or fittings etc. THEY MUST include the correct MOS 'fold over bleed', include correct metadata and data color blocks for success.
As used by professional graphic designers and wholesalers, if you are unsure how to set up a banner print ready file please watch a few How to videos or use the DEMO pages.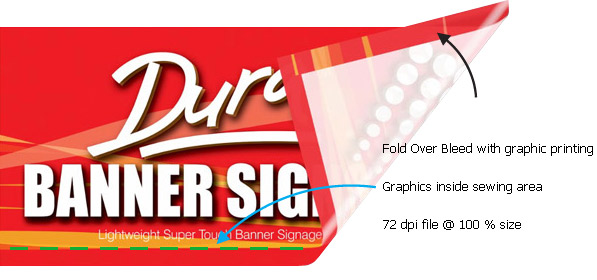 Explanation
IMPORTANT
A banner print ready file attributes include:
Fold over bleed
CMYK
Instant Preview
Single PDF per line item
Correct Ratio / Scale / Orientation
Matches order settings
Sufficient metadata and data color blocks
Quick Fix - Easy Template Maker
Follow all recommendations as given by the Easy Template Maker
Give correct specifications to your designer by downloading the free specification sheet generated by the Easy Template Maker
Flatten and Save As CMYK PDF less than 150mb.
---
Still unsure?
We recommend you hire a graphic design firm in your area and show them this page.
---