Discover How Charleston Graphic Designers Are Winning More Clients and Earning More Money Than Ever Before, Even When They're Competing Against Huge Full-Service Print Shops!
Charleston sign and banner designers are no longer losing business to full-service print shops thanks to the top quality printing of custom banners and signs provided by the Signs Banners Online factory.
They sit in their offices, use the simple and quick online service to upload their designs, get them printed and then have them delivered right to their customers, regardless of where in the world they are. And thanks to the amazingly competitive prices we offer, they can easily compete against large, full-service print shops, not that there are many of those in Charleston.
You too can join their ranks and skyrocket your business with Signs Banners Online's factory direct services at incredibly competitive prices that will help you win more jobs and clients than you can handle.
Stop Losing Jobs Because You Can't Offer Competitive Pricing On Printing
Most customers looking for signs and banners want to work with a single provider, from design to getting the final product in their hands. If you can't offer this, no matter how great a designer you are, they're likely to turn elsewhere.
Unfortunately, trying to get quality, custom-sized banners or signs printed in Charleston isn't easy. And when you can find a shop to do it for you, their prices are so high, you lose the job anyway, even if you make the offer to your customer at cost.
Signs Banners Online is a factory and we offer our factory services direct to designers. No middle men, no hidden agenda.
We're a factory run by designers for designers. We only work with wholesalers and designers and our goal is to help you make more money by providing top quality, custom banners and signs.
No matter how large or small your job is, we can handle it in our trade factory.
You'll be getting wholesale prices that are much lower than any other supplier could provide, allowing you to be competitive and still make a nice profit.
Tired of Dealing With Suppliers Who Don't Understand You?
Finding a supplier to understand your needs can be difficult, especially if you don't like spending hours and hours engaged in tedious conversations that never seem to get anywhere! We've all been there once or twice.
That's precisely why Signs Banners Online offers a variety of options.
Don't want to talk to anyone? Not a problem!
Just go to our easy-to-use ordering calculator that will guide you step-by-step through the ordering process.
Choose the material you prefer. We offer an extensive selection for outdoor and/or indoor use including AdFlyer Flags, DuraBanners Polyfabric, DuraSports Mesh, Te-Pro Canvas, Display Chief and more.
Input quantity and size. If you want just one banner, that's no problem. If you want a thousand, that's not a problem either.
Pick your finishes, color of the thread and fittings and you'll see the final price of your order on the same screen.
Don't forget to use our FREE Easy Template Maker, which will generate a template specific to the custom banner or sign you need to make sure your artwork is sized correctly and will also provide you with all the specifications necessary for the best result. You'll even get to see a preview of your banner or sign before work starts.
---
Our Easy Template Maker took three years to develop, but considering designers have used it more than 15,256 times already, we think we did a good job!
---
Once you're happy, put your order into production and track it around the factory as we make it for you. Finally, it will be shipped to the address you specified, for FREE, anywhere in the world, whether it's to you or direct to your customer.
And you can do all this from the comfort of your office, sitting at your desk, without talking to a single soul or even creating an account, if that's what you prefer!
Feel as if you need some help of the human variety? That's not a problem either!
Signs Banners Online has a highly experienced team of designers ready to help you with anything you might need. From guidance in choosing the right materials to assistance with your artwork, the Signs Banners Online team is ready to help you 24/7 with whatever you need.
Regardless of which option you choose, you can be certain you'll get the best service and the most amazing quality banners and signs you've ever seen. We run more than 30 checks on every order, to make sure each banner for Charleston meets our exacting standards!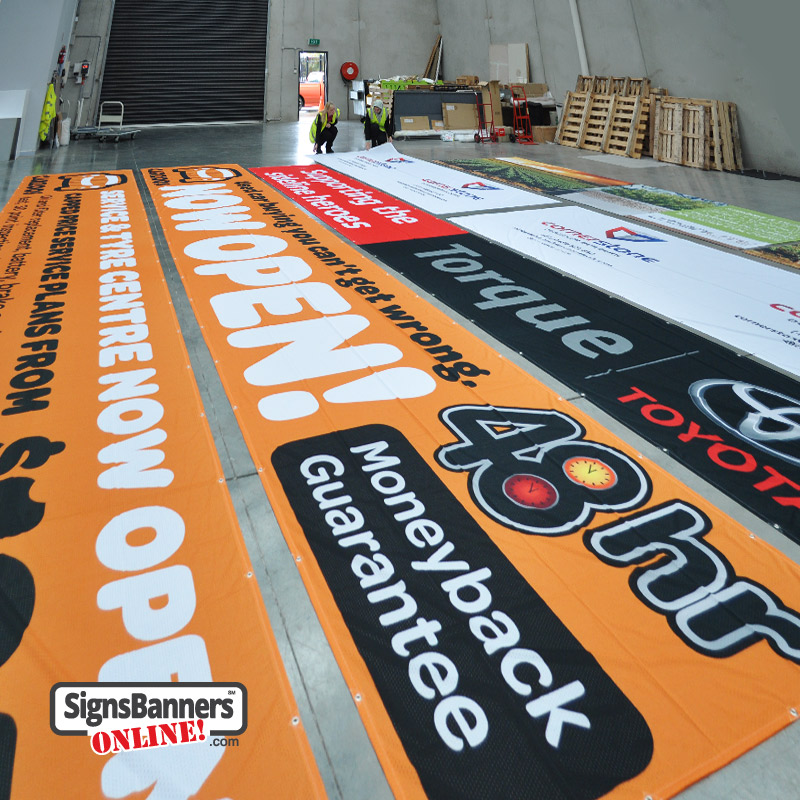 With more than 10,000 banners and signs printed and with over 90% of our orders being custom orders, we can guarantee we know what we're doing!
You Never Have to Reveal Who Your Customer Is!
Throughout the entire process, your customer's identity is always safe. You never have to reveal who they are, so you don't need to worry about losing work. We'd never even consider poaching a customer, but we want our customers to feel safe and happy, which is precisely why we made sure that at no point in time do you reveal any information regarding who the end-client is. We don't want to know. All we want is to make you happy with top quality banners and signs you can be proud of.
Payment Is Held for 10 Days in a Neutral Account!
When you make payment, which is done through PayPal, the money will be held in a neutral account for 10 days. You only release it when you receive the order or when the 10 days are up, so there is absolutely no risk to you!
What are you waiting for? Don't you want to expand your Charleston business and win more clients than you can handle? Of course you do!
So, get in touch with us and we'll provide you with all the help you need or start the ordering process now!