Trade Supplies
Designers and Agencies, sign makers and event managers love being able to order supplies here... "It's direct access to the sign factory".
Do you provide trade prices

Yes. All our systems show the latest discount price and retail comparison.

Wholesale Discounts
Can I provide my own print design?

Yes. This is the majority or our orders. We supply graphic designers, wholesalers and resellers throughout Ireland and all over the World.
What files and information do I need to supply?

You will need to Order & Upload correctly formatted files. We suggest you watch our how to videos. It's easy once you know how.
Are you a graphic designer in Belfast?
So if your'e a few minutes from Belfast or a few kilometres out from Dublin, Castlereagh or Beal Feirste you'll really appreciate the many free services Signs Banners Online gives you in Ireland. Free Delivery is everywhere. Free shipping to EU.


How to order
Input your choices, sizes and options. Click ADD ITEM TO QUOTE. This becomes a Line Item.
Name and files
Add your name and details & This becomes your shipping label. "Eg. Your City Belfast"
Upload each Line Item design matched to your order.
The Uploader will create a Job Ticket and Insert your order into the factory printing queue ready for your approval.
Approve and Pay, your funds are held in a neutral account.
After your goods arrive, Release payment to the factory.
Watch as your order moves around the factory
You will be notified at important stages of your order as it passes printing, sewing, quality inspections and other manufacturing milestones.
Track your parcel delivery to your door
You'll have access to your own special 'MyPage' where you can track the delivery stages of your order via the shipping company online services.
Signwriters and Manfufacturers
Select your favorite banner material. All pvc are now generally flame retardant so if you plan to use the banner as a permanent indoor display, such as tensioned or hanging, it makes an ideal selection. Also, PVC and mesh offers long term value and is also the preferred choice for larger advertisement billboards and outdoor signage advertising in and around Belfast. Polyfabric, TePro canvas and other textiles are also be used effectively for promotional advertising and event promotions by management firms in the Greater Belfast area. Signs Banners Online are the factory that supply printed signage for other signwriters and manufacturers.
Signwriters and Manfuacturers - factory access
With new specialisist equipment not readily available to the smaller sign firm in Ireland, We produce a wider range and in larger quantities of banners, custom made vinyl and poly and printed fabrics than most, Signwriters love the ability to order online, seamlessly getting their wide format printing supplies direct from the main factory. It offers them better profits and ease. SBO can produce hundreds of banners in minimal turnaround time thanks to our modern equipment, latest management tools, online services and in house finishing team expert at manufacturing flexibles.
"Very Impressive". "As a graphic designer in belfast, I recommend you use their online signwriting supplies". Boucher Rd Creative Studio
Designers and Advertising Agencies
This is the super strength of SBO, as a designer or agency, we can accept your quality files and silently partner with you and you sign firms. Online, easy and secure, no account is needed to login.
Ordering is as easy as 1..2..3!
1. Determine your signage needs and either call our friendly support staff at (Contact Us); place your order directly online in minutes; or request a quotation via phone or online.
2. Once your order is placed you will can access your personal assistance page through the visual proof and approval process to complete your sign order.
3. Once your order is approved it will be printed, produced and prepared for shipping.
Outdoor Sign Printing
With their wind resistant and water resistant properties, mesh banners are ideal for outdoor advertising on buildings, scaffolding and facades. Mesh banners are versatile and are popular as construction building banners as they are vibrant and eye catching. We lead the way with this large format DTB technology and this March offer a further -10% discount OFF MESH BANNERS. See prices here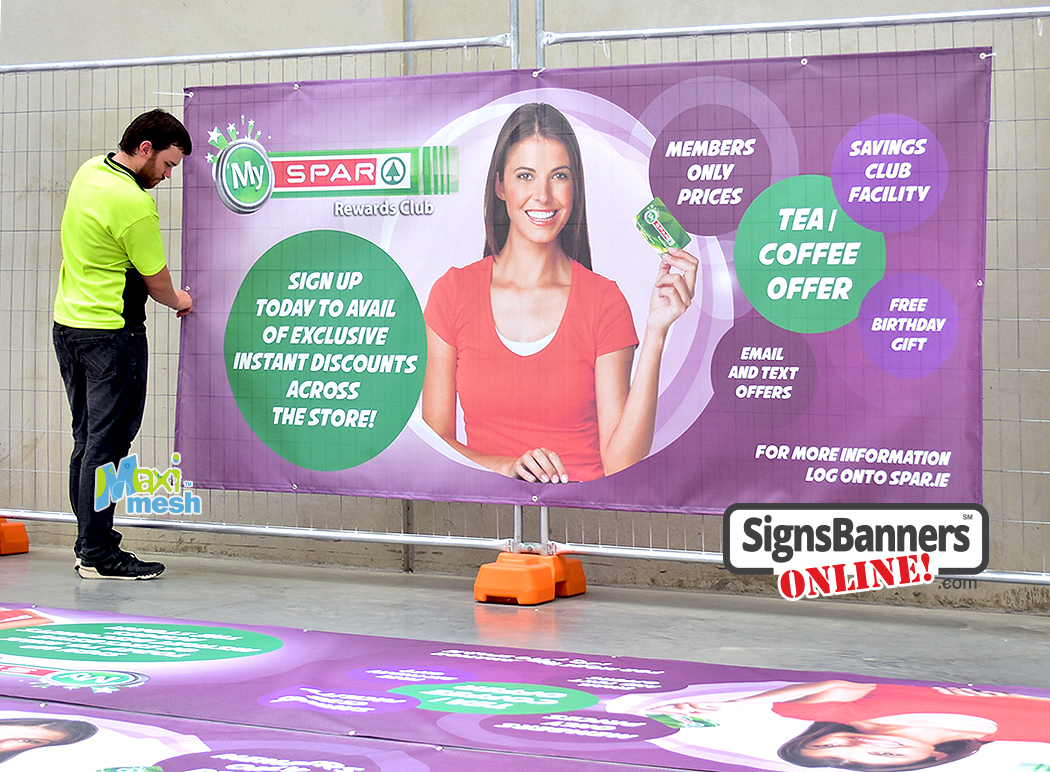 Now the top supplier of factory to user printed mesh banners
Experience, speed, low prices and direct to user factory access make our wholesale supply options for advertising agencies, govt business and billboard advetising even better for the local company to use.
Factory Support
At any time, at any stage you can contact the support team. Via Live Chat, Email or Phone.
Lightweight Super Strong
PolyFabric banners are the most popular product for durable outdoor advertising. All our banners are designed to be hardwearing and colourfast. They are printed on high quality materials and are produced with sturdy reinforced edges and no rust eyelets. Also available with sleeves, fitting and hoop fastner.