Rhino Blockout Outdoor

Banner Display
OUTDOOR Sunlight does not pass through
Rhino Blockout is a popular banner sign for structures and walls, indoor hanging displays and outdoor banners and is made for signage.
It has highest print capability and colors. This material is a staff favorite. Rhino Blockout is an all purpose indoor-OUTDOOR poly fabric canvas style material well suited to general signage including events and is better than PVC vinyl media wall. Clients love it.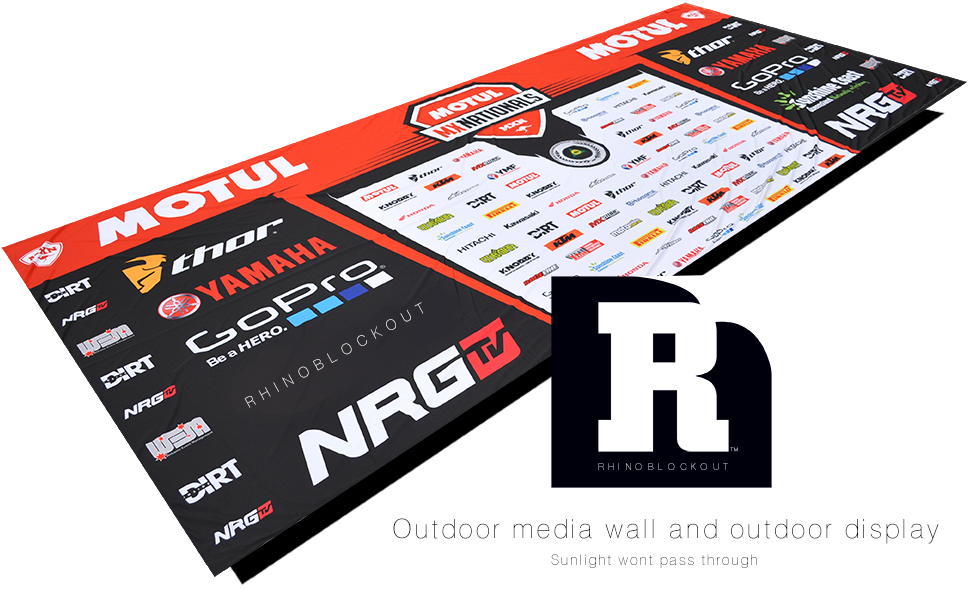 Use Rhino Blockout Outdoor Banners for:
Water-resistant applications such as outdoor banners, popup frame displays
Shop banners, billboard banners, expo and exhibition outdoor
Fine texture is ideal for interior design. Vivid color output / high definition graphics.
Replaces vinyl banners for high quality printing and color vibrancy wont let sunlight pass through. Perfect for outdoor / sunlight / television / close displays
The Rhino Blockout (Sunlight wont pass through) is well suited to replace vinyl PVC banners and shows a higher color rating, higher vibrancy and lettering definition. Retail designers can freely use this coated fabric for outdoor work including large banners through to interior design and canvas printing for walls, structures and panel mounts. It has a water-resistant coating known as AquaPhobic Coating.
OUTDOOR USAGE, this is manufactured for most common outdoor applications such as custom banners, stretch rope banners, front side pole banners, bleachers, tent facades, mounted wall banners etc. INDOOR it is also very popular amongst modern interior designers because its tight weave gives amazing design outcomes and the material can be wiped down with damp cloth.
Frequently Asked Questions
The three (3) most common questions are:
#1 It it a blockout? Will I see through my graphics? You will be amazed at the full blockout this product offers. Exclusive to SBO, Rhino Blockout offers 98.5% opacity under 'headlight' conditions.
#2 Is outdoor canvas printing high resolution? YES, it offers a high printing quality versus vinyl pvc banners. The aqua-phobic coating also includes a print accelerator for stronger printing outcomes succceeding 1440dpi at the print head.
3# Rhino Blockout as an outdoor display banner is commonly purchased to suit pop up frames, winners circle tv interview back media logo walls, indoor X-frame and similar branded collapsible frame concertina displays that are portable and need to moved to the next event. Eg. Winners Podium background logos for sponsor photo holding up the winning team cup and in between fittings, hanging heights to full length wall and outdoor banner site applications. The material is so flexible for custom manufacturing and is liked by clients and users alike. Order to suit your client and customize size.
Comparison
Comparison RHINOBLOCKOUT is a cross weave linen pattern with waterproof coating and a bold denier loom pattern. It is favored by clients for being smooth, vivid color output, wrinke resistant and modern. 98.5% Opaque with superb white face.
Comparison: RHINOBLOCKOUT is 116% print brightness vs vinyl. Superb blue orange magenta outcomes.
OUTDOOR Freestanding Banner Material Popularity:

No.1 Rhino Blockout
No.2 Display Chief (indoor)
No.3 Te-Pro
No.4 Vplus PVC Vinyl

It is preferred by retailers because:

Superb quality printing and can be used for outside displays and canvas mounts
WATER RESISTANT
Amazingly strong
Low costs and outdoor durability.
Large size achieved
Can be cleaned dirt resistant and well suited for outdoor conditions.
Foldable
White Front / Black Back - Sunlight wont pass through






Material Data Sheet




STAFF FAVORITES

"If your'e going to order a media wall for outdoor, this is the best material to use."
Marry Rhino Blockout WITH Sports Mesh:
Combine event signage with barricade sponsorship
Mesh covers and printed long span signage
Portable, Foldable. Ideal for event.
Outdoor suitable.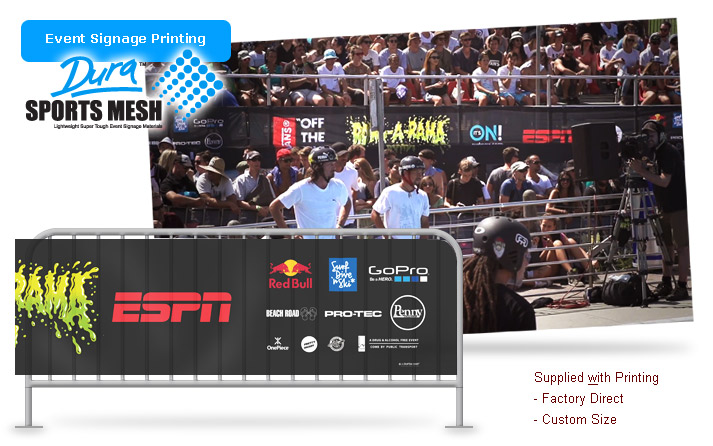 Sports Mesh | Fence Mesh | AdFlyer Flags
Sizes
Any Size Dimension, Any Design: Joins may be applied.
#1 Size is unlimited, large or small. Events may order one (1) piece or fifty (50) pieces all custom sized to suit their applications.
#2. Mimimum dimensions within reason, No minimum roll length.
Ideas and Usage
Outdoor grade blockout for display, outdoor TV Interview Media Wall does not let sunlight pass. Water resistant. Popular for sport-media-variety-photography-winners circle. Often seen backdrop for nightly outside broadcast news. You'll often see this at photo presentations too!