Facilitating superb color with fast banners
'Fabric printing technology known as SUBLIMATION facilitates super color rendition and superb ink lay.'
Printed FABRIC Poly air mesh banners lock in the color with a heat press system
Makita choose Signs Banners Online for their banner runners as used at displays because the material is superior, cheaper and can be re-used. Look at the superb colors DyeSub facilitates
Use Overlay effects for added vibrancy of DyeSub. Inks start as a solid, vaporize to gaseous color molecules and return to a permeated solid again. This captures the color and vividness of the logo design.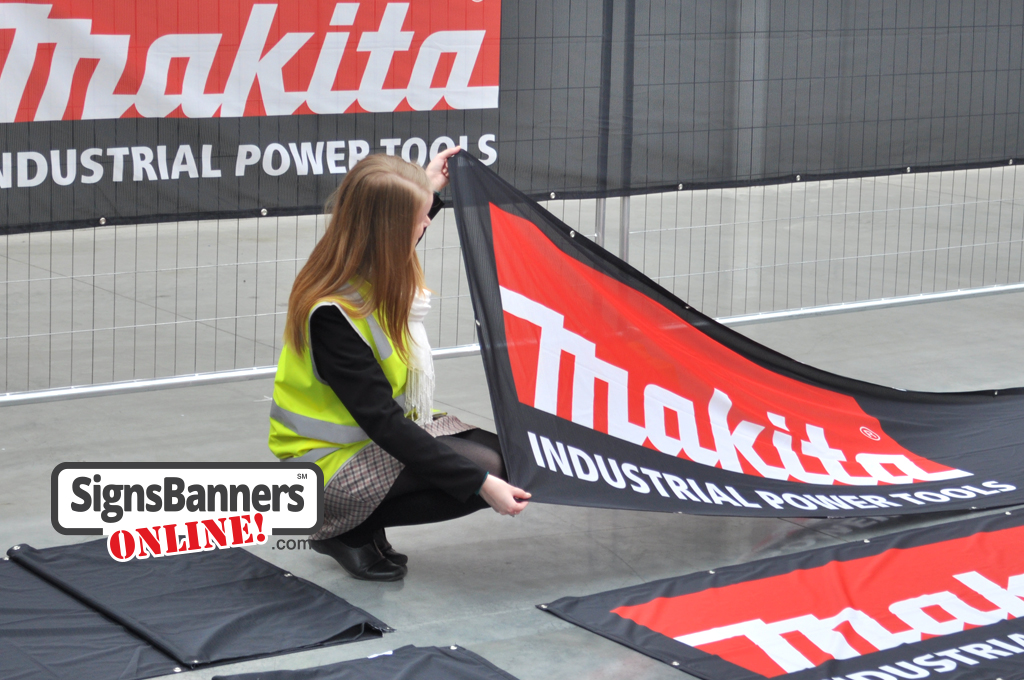 "Our time was very short you delivered pre-opening. Our state president (NY) is very happy looking to order more. Thanks for achieving my crazy event time needs and addressing all details to perfection". - Poughkeepsie
---
Banner & Fabric Printing Technology
Solvent/Eco -Solvent/Water - Based Printing
Direct inkjet printing eliminates the use of paper and enables printing directly onto specially coated fabrics. No post treatment is necessary and the inks dry instantly so that no special handling is needed. When coatings are applied it allows for higher resolution digital imaging on various textiles substrates.
Two different ink technologies exist for direct inkjet printing: Dye/Pigment - based inks and Solvent - based inks. Dye - based and pigment - based ink systems are aqueous, meaning they are water - based.
They are best for indoor use and need to be laminated if outdoor use is required. Solvent - base inks have the ability to dissolve, suspend or extract other materials without causing a chemical change to the material or solvent.
Therefore, these inks offer higher durability and are recommended for outdoors use. With the technology of printing software and profiles, the gap is narrowing on the quality of prints produces from direct printing versus sublimation printing.
UV Printing
This method allows direct printing on media without special coating on top of fabrics . Therefore it creates advantages both in turnaround time and cut back on human error and cost of media. Today, the roll -to-roll technology is accessible , which makes textiles even more attractive for UV printing. Currently, textiles are available up to 3.2 metres.
Using UV curable inks, the printers have the ability to print on a wide array of substrates, giving users greater versatility and additional product offerings


Latex Printing
Direct to substrate

The Newest print technology is direct printing using Latex inks. This method eliminates the tradeoffs between solvent and water - based inks.

A few of the many benefits includes: outdoor durability , low costs with the use of uncoated media, odorless prints, low maintenance and environment benefits such as no special ventilation needed and the use of non combustible inks.

Direct printing gets rid of the transfer process, no extra machinery or transfer paper is necessary, saving both time and money. The product life is shorter and inks may scratch.
Latex Printing
Designed for efficiency but suffers heavy machinery costs
Dye Sublimation Printing
Dye Sublimation Printing is a method for imaging fabric with dispersed dye. The design is transferred from preprinted paper onto the fabric by contact heat, which causes the dye to sublime.
Having no affinity for paper, the dyes are taken up by the fabric.
This method produces the most stable quality of print. Images are well-defined, colors pop and detail is exact.
Sublimated image are extremely washable and scratch resistant because the image is produced within the yarn
Disperse Dye Printing
In this method of printing, the image can be cured in the fabric as it exit s the printer. Additionally this would eliminate the need for a transfer print machine to set the inks in place and also the need for transfer paper.
One other advantage worth noting here is that the penetration of the color to the back side of fabrics, particularly in light and medium weight fabrics are superior to the traditional transfer method. As in most other methods of digital printing, these fabrics are suitable for both indoor and outdoor applications.
S B O offer both techniques for fabric products and vinyl pvc direct to vinyl too. Poughkeepsie Their online service is fast becoming the most popular for the graphic printing industry and is used my hundreds of wholesale resellers of completed finished print goods everywhere.
It's faster easier and cheaper Big banners produced in bulk. People fitting and inspecting the printed banner signs inside the factory for ship out to Makita Promotional Events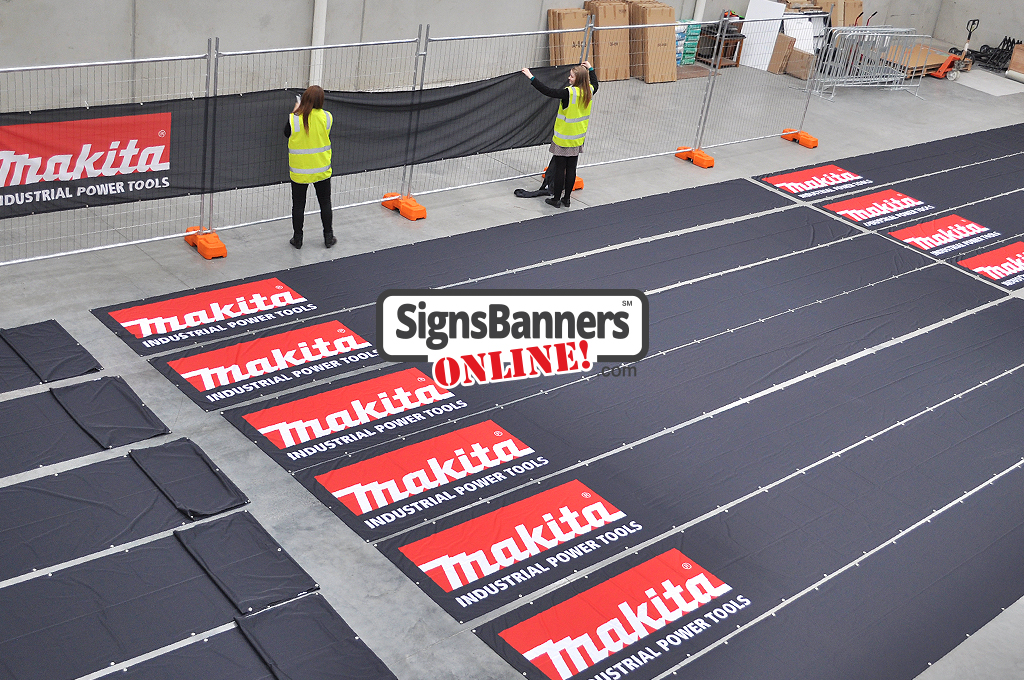 ---