Custom sign printing
Athletic Event Sponsors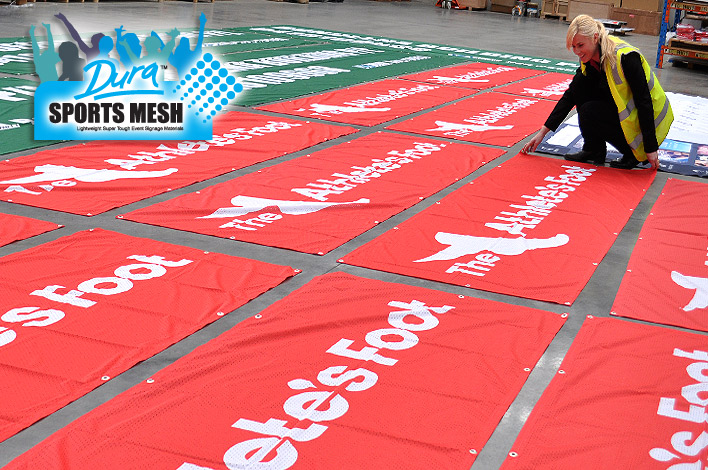 Portable and versatile, easy to install. These Athletic event sponsor banners can be tied and fitted, even strapped to the event surrounding stages and crowd boards.

All sizes custom and factory made

Ship out USA... all areas

October 2023 We look forward to connecting with corporate sponsors who ... listing and information on sport/event specific sponsorship opportunities offer to help support local sport and community events with logo signage etc. This factory makes signs for such corporate sponsorship holders and event managers.

Such a relationship is a win-win proposition, the event holders offset the management costs and the sponsor gains true readership and brand loyalty. The promotional power is very strong and bonds a loyalty to that brand. We craft many different customer and specific prints for San Francisco customers and those sponsors or designers can upload to print using Signs Banners Online system for wholesale sign printing and sewing.

"The screen arrived today, I have put it on the frame and it looks great, Thanks very much. I will definitely be using your services again Have a great week."

Build a 'most powerful' brand for your college event name with the assistance of outside company sponsors, maximize your atttendee rates and use signage sponsorships for stadium events. For information use the contact page.

I am very happy. A great product well made, fast and as they said it would be. San Francisco ALLTYPE PRINT


Announce Scholarships
San Fran Media and Press
Major Contributors
Corporate Sponsorships - Event by Event and/or Annual
See what other CA designers are uploading direct to print with Signs Banners Online!
and...
See also... WHAT IS SIGNSBANNERSONLINE.COM ?
Custom Signage Banner Printers and Sewing Experts