Custom sign printing
Contractor fence banners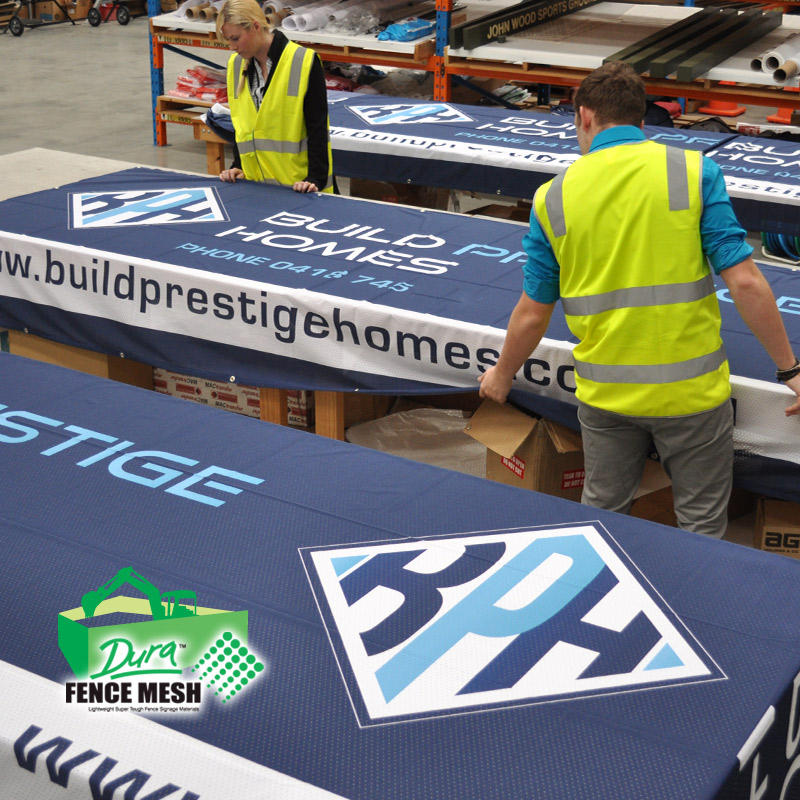 Series of fence mesh banners in the factory pre shipping.

All sizes custom and factory made

Ship out USA... all areas

April 2021 Design Fencing Signs using our free to use template maker that gives you the perfect size everytime. You can put you logo, words, schematic drawings and photographs on there too.

This service is used by fencing companies and companies building who attach the long span banner to the fence for advertising. Use by real estate companies in building and development promotion, land developing contractors, earth moving and more.

US sign blog post: "The DuraFence Mesh is the most recommended and probably the best result. It is used by signage manufacturers everywhere." "We are constantly suppling it for our contractors because its fair value and looks so good."

"As used on contractor fence panels for temporary advertising by the site management company". Their mesh is suitable application for site-hoarding, cyclone or 'diamond' wire fence and lift away temporary panels.




Snow rated
Desert rated
Mountain rated
Put it up with 'skyhooks' rated
Below are some of the products we offer to promote you, Project or Event: Printed shade aero style for building sites for building sites & boarding boards billboard Signage event crowd barrier slips.
See what other designers are uploading direct to print with Signs Banners Online!
and...
See also... WHAT IS SIGNSBANNERSONLINE.COM ?
Custom Signage Banner Printers and Sewing Experts