Galaxy28℠ Graphic Fabric
All purpose exhibition, expo and display fabric

"Colors Come Alive" Galaxy28 is a designer favorite.

Galaxy28 polymercized fabric banners are very popular large modern printed fabric exhibition wall displays and covers.
The special fabric is a super white and smooth and uses a proven sublimation process giving the ultimate contrast of color. It is the most vibrant color result of all printing table cover material. It looks beautiful.
Galaxy28 is the brightest fabric printing material available.
Image here
Use Galaxy28 for:
Exhibition and Expo.
Display wall, stretch and cover graphics, step n repeat, marquee liners and corporate displays.
Choose Hook or Loop for rear attach table surround.
Exhibit and Display Vendors.
Convention and Trade Show Services.
Choose Hanging banners (pole pockets and fittings available)
Also used for corporate draping and media wall backgrounds. Galaxy28 is full height full color graphics.


Excellent graphics and color definition. Equally suited for No or Illuminated graphic media..
Using Dye Sublimation Fabric Printing (gaseous ink systems) for printing printing the fabric is ideal for clients who want brighter colors, deep ink setting and smooth vignette graphics on their media. 28 is superb for fashion photos and high resolution photo banners.
All purpose (small to medium sizes only) Galaxy28 is well used for trade show graphics, weddings, sign in tables and more. The TOP BACK HEM can also have HOOK or LOOP attached for convenient fitting to your frames.
Frequently Asked Questions
The six (6) most common questions are:
#1 All Purpose: INDOOR applications. Lightweight super strong and ANTI WRINKLE
#2 Cleaning: you can clean the surface with luke warm water, soap and cloth. Material can be washed.
#3 Illumination: Yes. Galaxy28 is superb for soft signage illumination
#4 Sizes: Suited to Maxi or large sizes. Double sewn PLAIN JOIN used for maxi sizes.
#5 This is a shiny material.
#6 Suits rich color outputs. #7 Thickness = 7 oz 280gsm NON TEAR Galaxy SuperWhite 78% Opaque
Material Data Sheet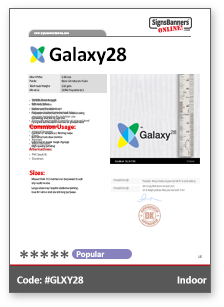 ---
Comparison Galaxy28 offers a 'shinier' finish. The shiny whiteness influence makes colors appear brighter. Display Chief is 'non glare matt'.

It is preferred by retailers because:
'Very White'.
Crease resistant.
Washable.
Amazing color outcomes.
Cheap.
No minimum size, No minimum quantity required.
78% Opaque
Washable for storage and re-use.
Actual Material (image dark for screen view only) of the surface/pattern. Color Whiteness = White 98%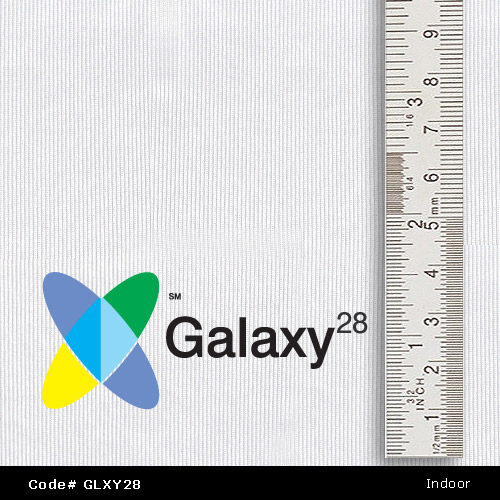 Sizes
Any Size Dimension, Any Design:

#1 Medium to Large sizes: Max no join height = 10 feet 6" (3100mm).
#2 No mimimum dimensions, Medium roll length.
Image Here
Use for presentation flags, soft signage, printed drapes and conference liners and general sign printing.