AdFlyer

Custom Street Flags

AdFlyer Flags are custom size, custom printed outdoor flags made to suit your needs! Made to suit a variety of pole sizes and fixing methods.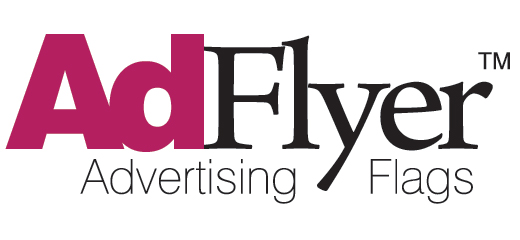 The AdFlyer Custom Flag material is a durable & lightweight fabric designed with business name flag printing in mind. When printed, the material allows the artwork to bleed through partially to the rear side. The AdFlyer can be made with a number of different finish & fixing options such as eyelets or sister clips, as well as a pole pocket/sleeve to suit your flag pole needs.
Ad Flyers can be printed at max width/height in one piece at your desired length. Larger sizes are also possible through material joins. Custom Flags are printed in full colour with no extra cost for colours.

Use AdFlyer Custom Flags for:
Corporate flags, club flags & sporting flags
Complete Outdoor usage
Customising your flag with a finish to suit your flag pole
AdFlyer flags can be manufactured with sister clips or eyelets for easy installation. The sister clips provide a quick, easy and robust installation system so that you can get your advertising campaign started as soon as possible. Great for outdoor venues.
Frequently Asked Questions
The two (2) most common questions are:
#1 Can the AdFlyer Custom Flags be used with a Flag Pole? YES, the AdFlyers can be finished with an option to suit your flag pole. Simply choose between sister clips or eyelets to affix to your setup.
#2 Is the Flag Pole included? NO, but the Custom AdFlyers come with a number of options
---
Comparison AdFlyer
Comparison: DBFM
It is preferred by retailers because:
Outdoor Gloss Polyester is a durable and vibrant material that is lightweight and ideal for flag use
Bleed through color meaning your artwork shows in reverse on the opposite side
Waterproof and well suited for outdoor conditions
Cheaper than PVC vinyl
Material Data Sheet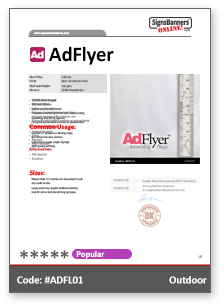 Actual Material (image dark for screen view only) of the surface/pattern. Color Whiteness = White 92% Silver 8%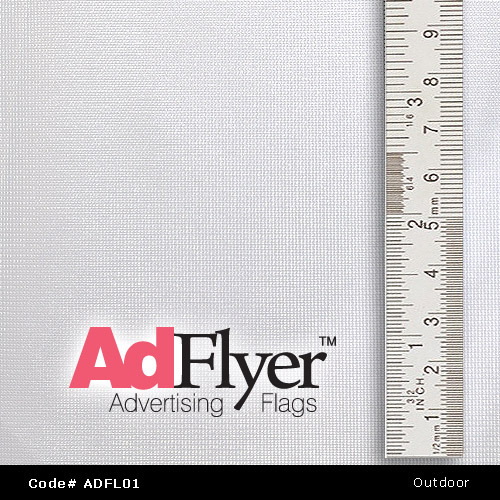 Sizes
Any Size Dimension, Any Design: #1 Height is limited at 1.55m as a non-joint piece. Events may order one (1) piece or fifty (50) pieces all custom sized to suit their applications.
#2. No mimimum dimensions, No minimum roll length.
Custom AdFlyer Flags are used by sporting and other clubs as means to advertise and display club insignia. They're easily interchangable allowing sporting grounds, clubs and events to easily change the flags over depending on the event.