PolyFabric
DuraBanners
These custom size custom design banner sign materials are cheap, lightweight, super tough and designed to lower your visual media advertising costs. Ideal for indoor and outdoor banner signs, dealer promotions, hardware promotions, shop and factory specials, product launches and more. Use for fabric signage advertising materials - flexibles. eg: Banners
PolyFabric Banners offer cheap prices onto fabric flag style material.

Use DuraBanners for:
Small to Medium Indoor or Outdoor banners
Replacing screen-printing PVC with modern digital inking systems. Polyfabric is ideal for new printing methods.
All Industries dealer signage. Short term promotional signage banners, low cost makes bulk ordering easy.
Excellent graphics and color definition.
Durabanners (DBAB) is a smooth closed knit weave that is popular with advertising agencies and outdoor banner suppliers. The material is lightweight with open air mesh principles to gain span versus wind load. Customers may use for pvc vinyl replacement and internal store flags.
DBAB can be fitted with eyelet grommets, back side hook n loop fastener, sleeved pole pockets and hemmed edges
DBAB is a single sided 'coated' for ink application one side only. Considered 71% opaque it shows through when hung and appears opaque when placed against a wall or backboard.
Frequently Asked Questions
The three (3) most common questions are:
#1 Maximum single piece? 7' feet / 2.2 metres x 60' feet / 20 metres
#2 Small to medium sizes: 7' feet to 40' feet / 2.2m to 12m square.
#3 9 oz. / GSM = 198gsm White Polyester
Material Data Sheet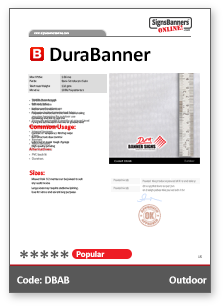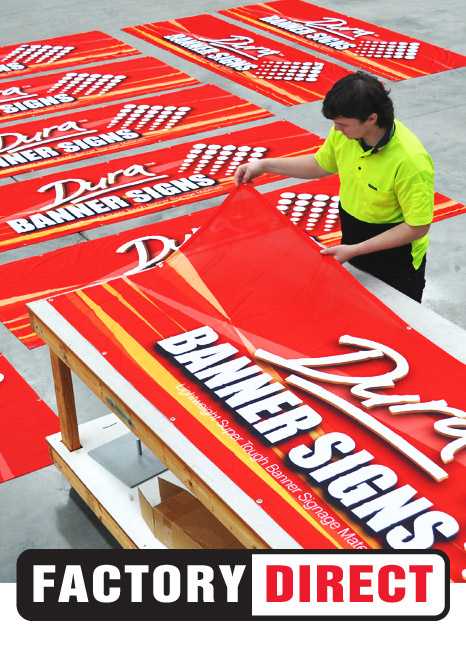 ---
Video
---
Comparison DBAB is warp knit polyester with ink receptive coating for modern large format direct to material printing. It offers superb strength, lightweight features and superb color lay-down
It is preferred by retailers because:
Sublimated Printing gives strong vibrant colors.
Low cost.
Custom size to suit customer orders.
No minimum size, No minimum quantity required.
Easy to attach with many fitting options including sliver nickel eyelets, hook n loop and pole pocket sleeves for securing banners to a pole.
Actual Material (image dark for screen view only) of the surface/pattern. Color Whiteness = White 95% Silver 5%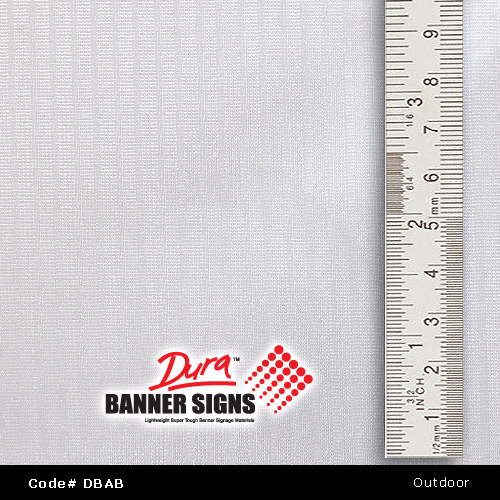 Sizes
Small to Medium

#The size is small to medium. Events may order one (1) piece or fifty (50) pieces all custom sized to suit their applications.
Note: Durabanners fabric dye sublimation printing banner is commonly purchased for indoor, outdoor banner signage printing and against wall situations, hanging inside store flags, school motifs, gymnasium and exhibition hall hanging banners (flags) and is an alternative to vinyl PVC with lower costs. Order to suit your client and budget set.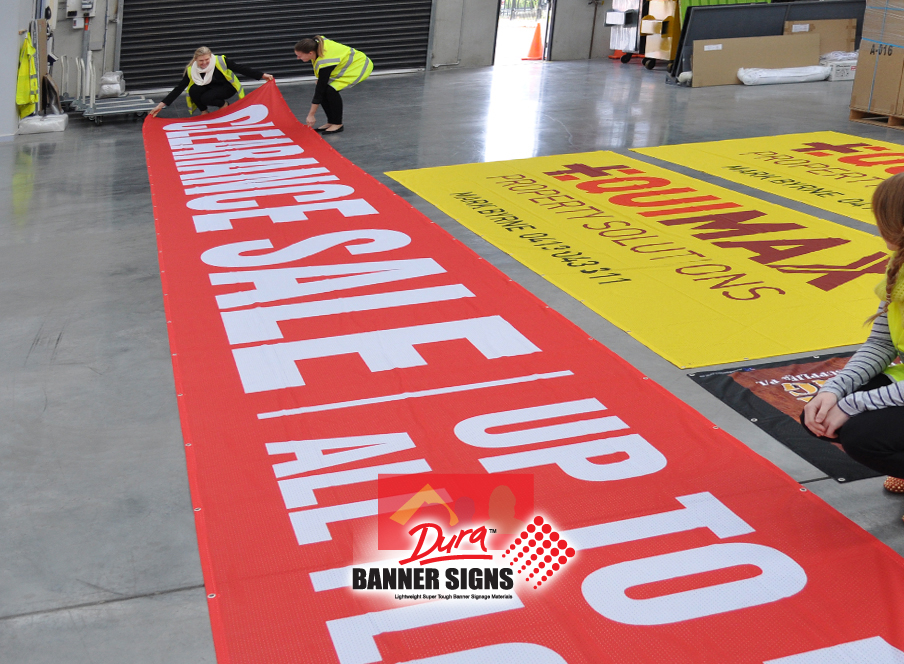 See lots more BANNERS and how others are using Signs Banners Online for their wholesale printing supplies.
Ideas and Usage
Use as a cheaper replacement for your dealer flags and banners, outdoor signage and dye sublimation banners, indoor flags and hanging ceiling exhibitions etc. The material is ideal against walls and back panels and allows some double sided see through when hung.
Durabanners can be manufactured with pole sleeves, hook n loop, eyelet grommets and specialized features custom to your needs.
Use for small to medium size marketing and display signage, cheap short term banners Car yard banners, store covers, maxi box displays and more.
PolyFabric - Durabanners
-7% November Discount
9 oz Sheen
Indoor / Outdoor Event
Dye Sublimation Printing
2 Year Ink

Strong Polyester
Twin Layer hemmed edges
No Rust Grommet Eyelets
Pole Pockets, Hook n Loop, Flag Clips, Flag

Durabanners offers bright fabric printing onto polyester flag style material.