Verified Buyer Reviews: Updated March 2023
All SignsBannersOnline.com reviews are labeled with a trust badge, so shoppers know they're reading real reviews, from real buyers.
---
Product quality is very good. RCP Construction Sacramento J. Brennan
---
The process was easy and they were helpful, Shipping took a week longer than I expected, but that's the customs and shipping company not sign banners. So signs banners online did a great job the picture quality came out great. SEATAC Fence Hire
---
THANK YOU. these guys were great to work with. Meyers Electric Panama City. Jonah S.
---
Easy process, good customer service, quality product. Dew Construction Fence Screen S. Bevins
---
Great product and service! Ross G.
---
My banner looks great. Easy to order and got delivery really fast. Signs Banners Online a worldwide company that delivers quality banners quickly at lowest cost. Will order over again with them. Mayweather. Boxing USA
---
Produce came in as advertised and looks great! The offgassing is a little strong from the printing process but we are happy. I really liked the printing video that was sent to us to show the work was in progress. we will likely purchase again. Carroll Construction LA
---
It turned out perfectly, very happy with the communication and how the shipping issues were resolved. Happy to recommend. Cheektowaga A. Nocera
---
Overall good service. Worked with me to get my layout correct and sent a video of the actual production of my order. Will use them again in the future. Geddes-Armstrong Construction, LLC
---
Fantastic printing banners. Easy to recommend. L. Broadwater
---
The banners arrived in a timely manner and were easy to open and preview. The print quality was great, we were happy they were printed exactly as we had imagined! The art department that accepted our files did a great job preview and caught, and edited, a minor design mistake. We were very happy with the second set of eyes on our artwork. New Leaf Custom Homes M. Powell
---
Great and easy process of ordering banner mesh. It was a very quick turn around and the banners were perfect for our purposes during our hotel renovation. I would highly recommend them, and I would use them again. Courtyard by Marriott Seattle M. Schabbing
---
The banners came in a timely fashion and the service was fantastic. Ridgewood Savings Bank, Ridgewood NY J. Coppersmith
---
Friendly service, great pricing, quick lead times...was a good experience. :) TriVista Inc Commercial Contractors Shawnna F.
---
I was working with signs banners online graphic team throughout the project. They are great to work with, and put a lot of effort in getting the product to me in a short lead time. Thanks Team!!! Graphic Dept
---
Great product and price. Printed fence screen. Ross G. Georgia Trades & Building Contractor
---
Printed windscreen mesh banner Texas Trades & Building Contractor
---
Skyland Ale Words. I am absolutely impressed with the speed, quality and value of our windscreen. J. Beyers
---
The Anaheim banner looked great at the expo. Pic attached!! J Bernhaut
---
Upright banner wall display. Great quality and received quickly. Would recommend to others. C. Groves
---
The product is good as usual. It came a little later than expected due to maintenance, but overall its nice. Xavier Johnson
---
Excellent experience. Banners arrived Colorado exactly as presented in color, quality & design - all at a great price! The best part was the excellent customer service.They made the extra effort to confirm colors and price so we would be completely satisfied - and it worked! Thank to the awesome team at Signs Banners Online. Thomas Sattler Homes, Inc Ann Corbley
---
This company is amazing! High-quality products delivered in record time at a reasonable price :) South Carolina 29405
---
Excellent quality and appearance. Exceeded my expectations. S. Sabin
---
Signs Banners Online was the perfect solution for our signage needs! Not only was the pricing the best we could find, my customer support contact provided superb customer service, the finished banners were beautiful, and the production time was really quick. Jeanna W
---
We at the South Beach Group would like to say Thank You for all of your hardwork on our sign it looks amazing. Graphic Dept
---
The banners looked great, thank you again for all your help throughout the project! Thank you. Graphic Designer Phil Van Thiel
---
Everything was beautiful , very very impressed with every aspect. You guys are the best! M. Johnson
---
Awesome! "Thank you, Awarded 5 Star Rating"
---
Embroidme.com Thanks for your amazing service as always. Creative Studio
---
Great job once again. My banners look terrific and arrived quickly. Thanks! Kristen H.
---
Another great success. It's why I use you guys. Building Firm
---
About the window signage. I've attached a photo. We LOVE them. "Thank you, Awarded 5 Star Rating"
---
Wholesale Buyer. PostNet offer small business marketing solutions that give you the tools you need to build your brand. 5 Star Excellent
---
Great super bright and highly visible. Helped let everyone know where our new store was. It is really tall and great for by the road. I would recommend this to anyone who wants to stand out. Excellent flag print quality. Will buy again - Wilmington Graphic Services Kurt T.
---
Banner was exactly as expected! Would do business again!!! 15' Full Color Custom Tall Swooper Advertising Flag Feather Banner +Pole & Spike Hevnerja (Hevi) P.
---
Thank you so very much to Signs and Banners Online for our awesome team banner which now hangs proudly in our rink. From the design process to the product arriving at my door, everything was flawless. The communication was great even when I needed a few changes made. The changes were made quickly and accurately. Thanks again from the Downriver Hockey Association and the 12U Downriver Otters Red Team. You guys rock! Erin S.
---
The material and print job were spot on and looks very nice. SMG New Orleans Creative Studio
---
Happy with everything. Presidents Cup Taekwondo Championship. New Jersey USA KYOUNG HWAN K.
---
Great working with Sabrina and Wendy. They were responsive and we received orders when expected. Thanks! NYC DDC Dept of Design and Construction. New York City DOT Justin D.
---
Thanks - good service fast and efficient Buddina Fence Hire
---
Fast reliable service and the finished product is always to a very high standard. Toshiba Graphic Dept
---
Brilliant work! (as always) The new banner mesh has our site secure, ticking OH&S Boxes, the general public safe and our clients impressed. Thanks again for the amazing work from design to completion. We will be back for more! Creative Studio
---
Fast sign, accommodating, reliable. Wasseem Raffoul
---
SignBannersOnline were extremely helpful in their colour matching process of the fence mesh + they met their promised delivery dates. 10/10 customer service, massive thank you to the team. B. Schiller
---
Fast design turnaround and delivery. Easy to deal with and excellent product. R. Morris
---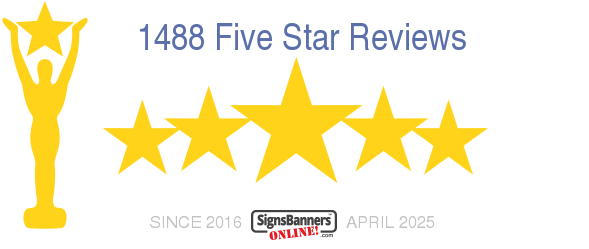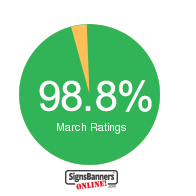 Signs Banners Online Customer Reviews
SBO is passionate about providing genuine user reviews. Everyday our team is striving for the best customer service and product quality and that's reflected here with your 5 star reviews.
"Thanks everyone" We love it!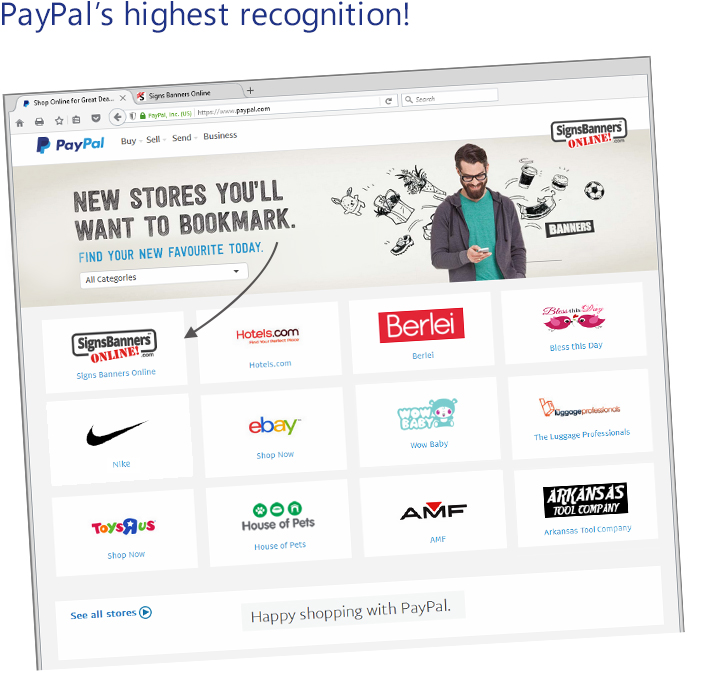 PayPal
Trust and Approval
Signs Banners Online is awarded PayPal's highest recognition being invited to display a live link among famous North American retailers and firms on the official PayPal website.

"We are very proud of this".